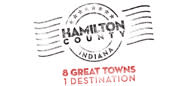 The Hamilton County Convention and Visitors Bureau, which is the official destination marketing organization for Hamilton County, Ind., has seen a major return on investment from their 2012 advertising campaign.
According to reports from the CVB, their efforts generated more than 52,000 trips to the county and more than two million visitors, resulting in an economic impact of more than $25 million. Additionally, their placements in key markets such as Fort Wayne, Ind. and Louisville, Ky. have raised awareness of the county's restaurants, hotels and events by nearly 10 percent.
"We are careful with our advertising dollars to make sure that our message resonates with regional visitors who are remembering Hamilton County when they put their travel plans together", said Brenda Myers, Executive Director of the Hamilton County CVB.
As the Hamilton County CVB is a valued client, we are always proud to see a strong ROI from their strategic marketing, hospitality and community development initiatives. For more information, read the bureau's official release on their site - VisitHamiltonCounty.com.