When it comes to booking a vacation, travelers are faced with a multitude of starting points. Before they can even think about booking, they have to make the ultimate decision: where should they go?
With so many possibilities, it's imperative for travel brands and DMOs to inspire travelers at every step of the customer journey. That means capitalizing on every touch — from location discovery to purchase. But how can DMOs deliver the personalized, engaging experiences that today's consumers require?
A recent Stackla report, Bridging the Gap: Consumer & Marketer Perspectives on Content in the Digital Age, shows that consumers are increasingly looking to user-generated content (UGC) for travel inspiration and validation throughout every key stage of the booking cycle.
Visuals that Spark the Most Travel Inspiration
When consumers were asked which sources of content sparked their interest in traveling to a particular destination, photos posted by friends, family or peers on social media were the top source of inspiration. In fact, 86% of people — and 92% of Gen Z — said they've become interested in a specific location based on that visual social proof.


Although travel influencers are often touted by marketers as the latest and greatest way to attract people to new places, the people say otherwise. The global consumers we surveyed said user-generated images are 1.8x more likely to make them interested in traveling to a destination than images from a celebrity or social influencer.



Content that Takes People from Looking to Booking
Genuine reviews and visuals of travel and hospitality experiences make a significant impact on consumers as well. Rather than simply telling people over and over again that your destination is best, actually showing them a real visitor's authentic experiences can be the most powerful form of social proof.
When people are researching travel destinations and accommodations, the majority are referencing user-generated visuals on social review sites (59%) and social networks (54%). Yet, only 12% of people said they'd reference celebrity or influencer photos when planning travel.
In fact, the impact of influencer marketing on travel has significantly declined in the last couple years. Stackla's report found that 60% of people said content from friends, peers or other consumers was the most influential (up from 42% in 2017), 23% said professional images from travel brands' websites (up 19% from 2017) and a mere 2% said influencer photos were the most influential (down from 10% in 2017).



And, 38% of people went so far as to say content from celebrities or social media influencers never impacts which hotel or resort they choose to stay at when traveling.
Travelers-created images aren't just theoretically influencing people's travel decisions, they're directly driving bookings. In fact, over half of consumers (52%) say they've made plans to visit a specific destination based on an image or video they saw from friends, family or peers on social media — up from 43% in 2017.
 
Continually Fueling Travel Decisions with UGC
With the demand for authenticity on the rise, DMOs should look to their visitors to continually drive and amplify their content strategy — and people are excited to participate. When 89% of people say they would post about a positive travel destination experience, and 51% say they'd be more likely to continue engaging with and/or purchasing from a brand if it shared their social post across its marketing, it's clear DMOs would be missing a massive opportunity by not leveraging the free and abundant authentic content their visitors are creating online everyday.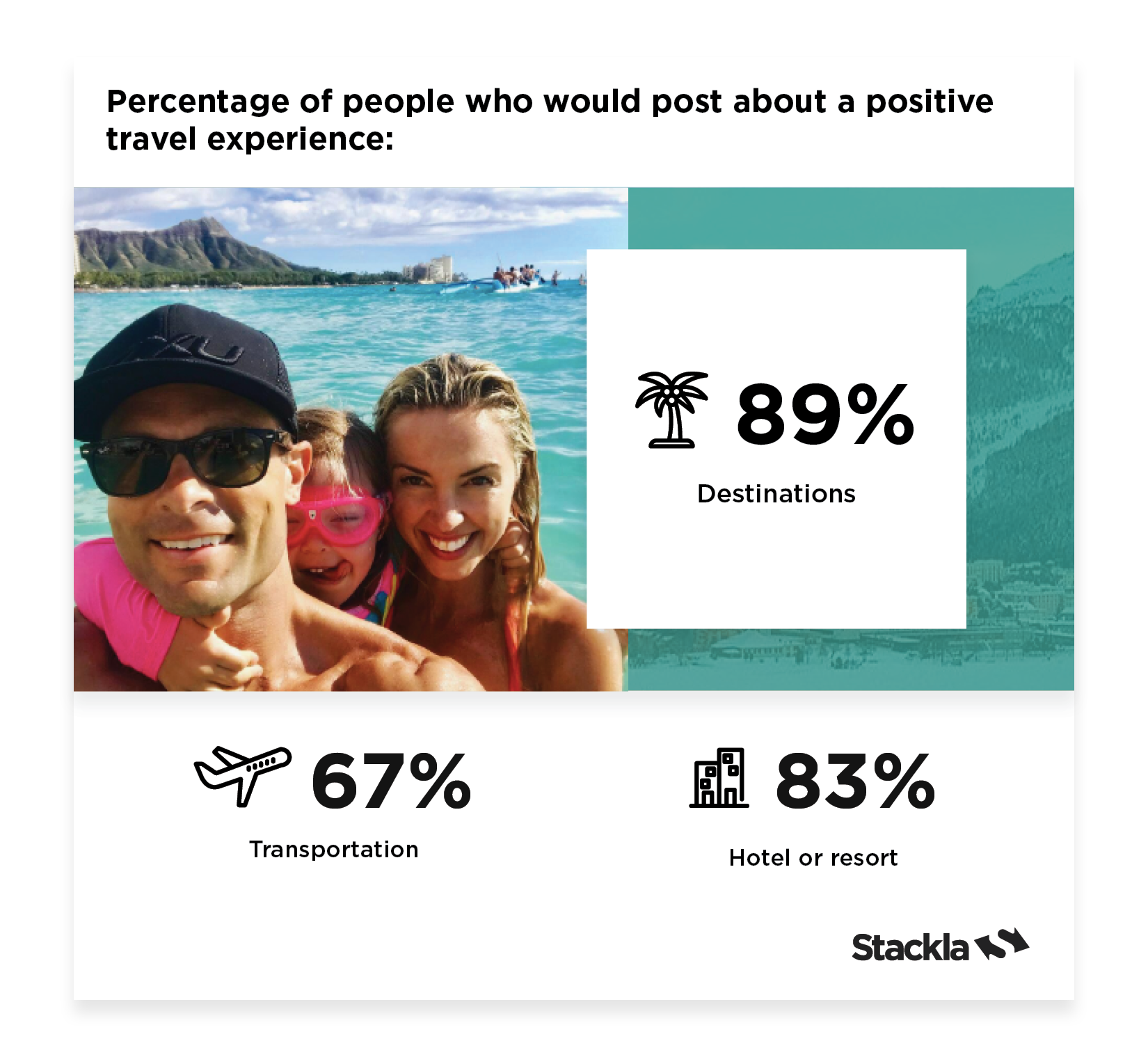 With travel content in particular, authenticity can be the difference between breaking through and being ignored. Since the vast majority of people seek out and are influenced by UGC more than any other content, travel and hospitality brands must start ditching their expensive and time-consuming traditional content methods and start tapping into the power of traveler-created visuals.