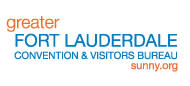 The Greater Fort Lauderdale Convention and Visitors Bureau has been a long-time and valued client of ours. They were one of the first destination marketing organizations to use Simpleview CRM and their team has been excellent ambassadors, regularly posting tips and tricks on our systems to our Client Portal's users forum and at our annual users conference - the Simpleview Summit.
That's why it's exciting to be a part of their latest project - the redesign of Sunny.org, which is their official site for marketing Broward County, Florida to tourists. This latest version makes discovery, planning and travel to this popular sun-spot easier than ever, whether for business or simply to enjoy their 23 miles of beaches.
Some of the site's unique, enhanced features include:
"App-like" Experience - On each page, there is a drop-down menu that's labeled "Explore Your Sunny Side." This has highlight points of interest with large icons and a scrolling feature that is familiar to users of popular mobile applications, making it easy to explore the many ways to play and stay in Greater Fort Lauderdale.
Enhanced Trip Planning Tools - It is so simple to making travel plans for this sunny destination now, thanks to the site's new trip planning tools. Their hotel listings can be quickly sorted by amenities, price points and more. Additionally, deals and coupons can be quickly found with their "Deal Counters" navigation to show offers on specific hotels, whether you are looking for something close to the airport or a luxurious spa resort.
Browse by Interests - Want to take a pre- or post-cruise excursion? How about a vacation for you and your pet? The staff has done an excellent job compiling content for each type of visitor, showing how inclusive Greater Fort Lauderdale can be for all types of travelers. And with their "Sunny Interests" widget, finding the information you need for that perfect vacation is a snap.
Inviting Interactivity - The Greater Fort Lauderdale has always done an excellent job with managing their social media presence, having thousands of followers and fans on Facebook, Twitter and other networks. They have turned Sunny.org into a social hub, linking to the networks they activity use to invite interactivity and sharing. What's unique about this approach is their Fan Faves feature, showing you what your friends on Facebook like and other popular pages that are associated with the destination.
These are just some of the new and improved features on Sunny.org, but there are plenty more to explore on the site, such as their live web cams and "sunny tunes" music channel. So, what are you waiting for? Hop on over to Sunny.org to learn about Greater Fort Lauderdale and maybe even defrost your swimsuit for a future trip to this bright, vibrant destination!