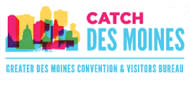 Des Moines plays host to an ever-growing number of nationally acclaimed cultural events - the award-winning Des Moines Arts Festival, Iowa State Fair and World Food Festival. Music enthusiasts can also go see national acts such as the Flaming Lips and Girl Talk at the city's 80/35 Music Festival.
With all of those fun, modern attractions in this Midwestern city, the Greater Des Moines Convention and Visitors Bureau (CVB) felt the city was being perceived as a traditional destination. To help attract visitors to experience the best of Des Moines, the CVB developed a new brand - "Catch Des Moines." The new message suggests that it's easy to catch a table on short notice, to catch an amazing festival and to catch more than you previously knew about the city.
To help the new brand launch, the CVB worked with us to develop a new desktop and mobile site to share these messages. This includes incorporating a design and layout from their creative agency, building a content management system (CMS) for easy site updates and providing regular consultation sessions with our project managers to keep the process running smoothly. They also work with our revenue-generation division - Destination Travel Network - to offer strategic advertising opportunities to their member and partner businesses on the site.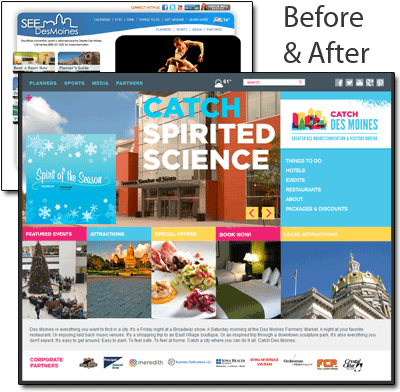 Some of the site's unique features include:
Multiple Slideshow Transitions - On the CatchDesMoines.com home page, there are multiple headers that change to show the city's attractions. These rotate to emphasize several major events, offers and features. Rolling over each slideshow brings up a new window to provide more information about dates and to manually scroll through the other features.

Coupons on Homepage - Want to quickly find a great deal for your upcoming Des Moines vacation? Our Coupons module was built into one of the homepage's rotating headers, allowing you to download and print discount vouchers to local businesses with ease.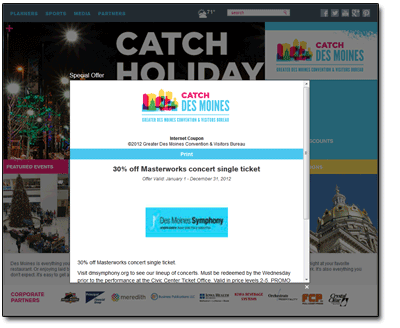 "Our research shows that using the word 'catch' throughout our messaging demonstrates the true ease of our city, while also communicating that we are hip, vibrant and fun," said Greg Edwards, President and CEO of the CVB and Des Moines Area Sports Commission in an official press release. "These are specific attributes visitors expect and experience here. This makes the newly identified brand more believable and relevant."
We have to agree with Greg - Des Moines is certainly hip and vibrant...and so is their new website! So, check out the new CatchDesMoines.com and learn about all the fun restaurants, hotels and events awaiting you.