If you've heard it once, you've heard it 1000 times (and heck, we'll tell you again); social media marketing is an essential component of any overarching destination marketing strategy. Don't believe me? Check out DMAI's DestinationNEXT report, which identifies "social media's prominence in reaching the travel market" as one of the top 20 DMO trends. If your DMO hasn't already embraced a social media platform to some extent, then it's high time you start.
But fear not, headline-scanning millennial! We're not here to simply state the obvious. If you're wondering exactly how you can achieve a manageable social media integration on your website, read on and consider one DMO's social lounge approach for engaging visitors and partners alike. [[endteaser]]
The Dilemma
If you're a Content Coordinator or Community Manager, you're likely a part of a very small social media team, or even more likely, you are the team. Perhaps you "don't have any time to facilitate social media engagement" or "you're too busy with email marketing, website maintenance and meeting planning!" Sound familiar?
When it comes to social media, marketers prefer to imagine an enormous responsibility, filled to the brim with programming and original content. And for many organizations (typically larger ones), that may be true. But for DMOs, there is key content more important, and of much greater value at your disposal. That content isn't derived from calendars or your staff, but rather, is compiled from word of mouth, brand ambassadors and destination natives. Take, for instance, Monterey County Convention & Visitors Bureau (MCCVB) and its new interactive social lounge.
#Monterey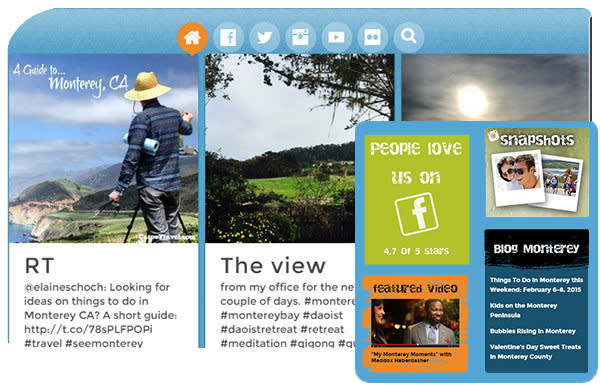 Over 10,000 images are presently tagged with #Monterey on both Twitter and Instagram. With this massive amount of user-generated content available, MCCVB sought to create a space within its website, SeeMonterey.com, to show how visitors are "grabbing life by the moment." Together with Simpleview, MCCVB designed a lounge-like space that aggregated real-time user content.
The social landing page, while true to the website's theme, has it's own look and feel targeted at millennials. The feed specifically pulls in content from Facebook, Twitter, Instagram and Flickr for each post tagged with either of the hashtags #Monterey or #GrabYourMoment. To the left of the feed, MCCVB features its own content for visitors to further explore back into the site, including windows to photos, the blog, and video.
With the new social landing page, MCCVB achieves multiple goals:
Aggregates constant, fresh user-generated content
Requires minimal staff resources
Supplements and promotes existing MCCVB content
Reflects brand of "Grabbing life by the moments" via sharing moments
Creates an additional social platform to promote partners and members
Utilizes brand advocates and word-of-mouth media
In addition to engaging with consumers and sharing brand ambassador experiences, Monterey County Convention & Visitors Bureau aims to utilize its hashtags in paid advertising and future sweepstakes and promotions.
The Bottom Line
DMOs can incorporate social media into their marketing strategies without huge budgets or dedicated social media gurus. Instead, focus on user-generated content and website integrations that you can maintain and share. These will not only prove less time consuming, but also provide more effective content for your visitors and partners alike.