Got a hankering for some local flavors? Or maybe you're chasin' down some exotic cuisine? Whatever your stomach is growling for when you travel, it's likely that food and drink are on your vacation itinerary … and you're not alone. Many travelers coming to a destination have culinary experiences on the brain, too. In fact, there's a term for foodie travel: gastronomic tourism.
This article highlights some DMOs who've developed an appetite for featuring the foods and flavors of their destinations — but before we hear from Boulder Convention & Visitors Bureau, Experience Grand Rapids, and Visit Walla Walla, let's define exactly what gastronomic tourism is.
Gastronomic tourism is a type of tourism that is based on visiting food producers in order to taste a special type of food or beverage, all while experiencing the unique, local culture and history of what you're eating. Gastronomic tourism brings the travel industry a wealth of benefits beyond great food, including the improved local economy, agriculture, and cultural preservation.
Whether it be bites, brews, or vino that your destination specializes in, it's important to draw in the tourism dollars of travelers with the biggest appetites.
Bites
Have you ever considered that cuisine might be one of the main reasons travelers choose your destination? As part of the cultural experience, indulging in local meals helps visitors to understand the essence of a community. So, how can your destination marketing organization (DMO) entertain hungry visitors? DMOs are capitalizing on culinary passion by offering up more food experiences, as opposed to just restaurant recommendations.
Food n' Road listed the following as "food tourism activities" that travelers often seek:
Taking a street food tour
Tasting of dishes and beverages at traditional restaurants
Following regional product routes (e.g., travel on wine or coffee routes)
Sharing meals with residents
Visiting farmers markets
Learning about the production of food by visiting farms and artisan producers
Participating in cooking classes
Visiting exhibitions that explain the history of local cuisine
Culinary expeditions with chefs and specialists
One DMO that is cookin' up something irresistible for travelers is Boulder Convention & Visitors Bureau. When designing the website, the creative experts at Simpleview made sure that visitors can navigate to Things to Do > Tours & Experiences > Food & Drink Tours from the homepage. On the Boulder Food & Drink Experiences page, travelers can explore the ins and outs of guided food and drink tours in Boulder — including tasty adventures to craft breweries, wineries and distilleries, coffee and tea roasters, and artisan chocolate making classes. There's even a "Snowshoe Rocky Mountain National Park Followed by Fondue and Cider."
Brews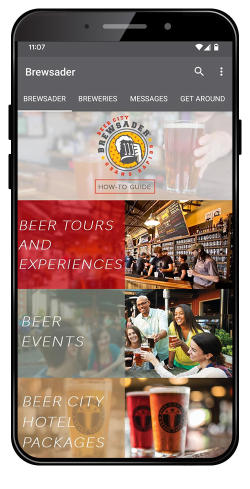 Time to get hoppy! A large part of gastronomic tourism comes from brewery tours and crawls. Bottled or canned, travelers flock to taste the local brews of any destination, which is why many DMOs use digital passports to curate content about their breweries through enticing guides via mobile apps.
For example, Experience Grand Rapids has its very own Beer City Brewsader Passport App with VisitApps. Here's the description:
"Are you a beer buff? An ale enthusiast? An IPA aficionado? Then you may have what it takes to become a Beer City Brewsader® – download the Beer City Brewsader app (Google Play and Apple stores) and earn a collectible t-shirt to wear with true brew pride by visiting area breweries! Join the Brewsade® today. Already a Brewsader? Become an Ultimate Brewsader!"
Vino
Many destinations capitalize on their perfect weather, soil, and location to cultivate a vineyard worth visiting. Visit Walla Walla is one DMO that uses its lush fields of green and grapes to pull in travelers from far and wide.
With more than 120 wineries and more than 3,000 acres of vineyards spanning both the Oregon and Washington sides of the valley, Walla Walla is widely recognized as one of the world's top wine regions.
To learn more about the gastronomic tourism presence in its destination, the DMO conducted a comprehensive inbound visitor research campaign to more clearly define the demographics of who visits for the gastronomy scene, where they visit, and why.
Top activities amongst Walla Walla visitors:
Visiting wineries: 50%
Casual dining: 44%
Fine dining: 22%
Visiting farms: 2%
Visiting for beer, spirits, and cider: 23%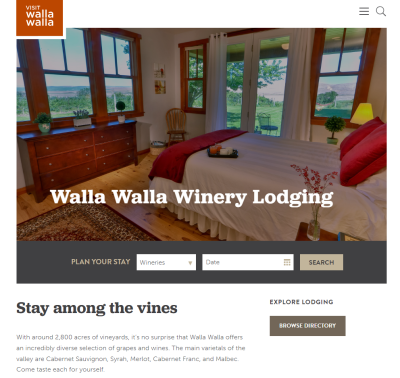 With visiting wineries being the number one activity that travelers in Walla Walla take part in, it's not surprising that the DMO felt the need to accommodate visitors with lodging near these gastronomic attractions to support their local hospitality partners. As a Book › Direct client, Visit Walla Walla displays a Walla Walla Winery Lodging landing page on its website, where travelers can book places to "stay among the vines."
Whatever gastronomic tourism delights you are serving, Simpleview can help your destination reach potential travelers.
[Unable to render content]