Introduction
The marketing landscape has changed significantly over the last few years. New technologies and concepts are quickly moving from buzzword and hype to reality. Big data, marketing automation, and artificial intelligence are just a few of the concepts that are coming to life. So how can DMOs be prepared for the wave of technology and marketing automation that has arrived?
Measuring what matters
Destination Marketers have long measured numbers indicating reach and impressions. As these numbers have gone up, we have created expectations from stakeholders and board members to keep getting bigger numbers year over year. We've relied on these numbers for so long, our industry expects them. However, as an industry, we need to move away from oversimplifying our efforts into one or two magic numbers, or vanity metrics. Reach matters, but achieving conversion out of that reach matters more. If you reach fewer people, but more of the people that you do reach actually engage, your return is likely going to be stronger than if you reach more people, but they aren't the relevant audience and don't pick up the phone based on that reach. We need to re-learn ourselves and re-train our stakeholders to know which results show the most value.
Instead of looking at impressions and reach, DMOs should be building a holistic view of their marketing activities. For example: What is the relationship between your awareness measures (e.g. impressions, reach) and your consideration measures (e.g. page views, time on site)? What do you want your website visitors to do on your website? Are you monitoring your consumers from acquisition to engagement? What happens when you launch a marketing campaign? Do you see an increase in website visits? Do the increased website visits correlate to certain themes on your website?
To truly show value and noteworthy returns, DMOs need to find ways to measure their customer's end-to-end journey, from acquisition right through to the destination website, and hopefully through to their visit. To do so means shifting away from vanity success measures such as reach, impressions, and other similar numbers.
Integrated view
Tourism Marketing is complex. The volume of marketing channels and tactics continues to evolve. Different marketing channels have different ways to measure success.
DMOs need to be building an integrated view of their marketing efforts across all channels. This means asking questions like: how do my marketing activities align and support each other? Am I able to measure the customer journey across my marketing program?

One of the biggest strengths of digital marketing is the visibility into the customer journey. For example, the results of your social ads can be tracked into your website. From there you can monitor website behaviors, serve dynamic content, and even remarket to visitors when they leave. This requires an integrated approach across all of your digital marketing activities.
Successful marketing requires DMOs to build clear and complete views of the customer's journey from awareness, through to conversion, and even into the destination. This requires a holistic approach that streamlines all of your marketing efforts into a clear view of the consumer. This will allow you to build attribution models that evaluate and properly compare your marketing efforts.
Here is a really simple example: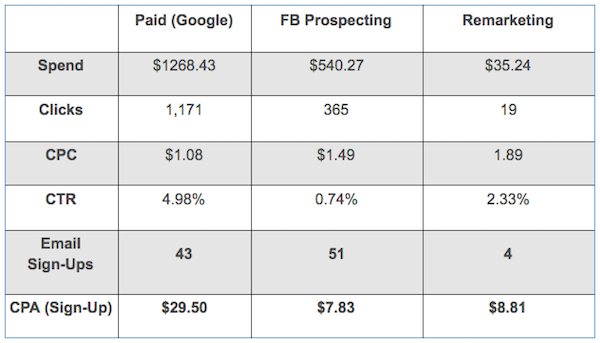 In this example, most DMOs would look at the CPC and the CTR as the true measure of success. Those are only the tip of the iceberg and unfortunately only tell part of the story. In this case, what really mattered was the number of sign-ups and Cost Per Action (Sign-up). The value of the consumer who signed up for a newsletter is much higher over time than someone who clicked on an ad once.
This example illustrates the need for DMOs to invest in all consumer touch points to ensure that every dollar spent on acquiring a new consumer has long-term value.
Getting Ready for Marketing Automation
Marketing Automation software automates your marketing actions, especially for repetitive tasks such as email, website updates, and social media postings. With careful planning and use of data, it can certainly personalize your marketing efforts and simplify processes.
To properly make marketing automation work for your destination, you need to be very purposeful in the setup process. Only after you've been able to measure the end-to-end customer journey, as noted above, will you be able to create clear conversion funnels that drive an action–a sign-up, hotel booking, partner referral etc. The conversion funnels become the framework for your Marketing Automation program.
Once you've created a couple of clear action-oriented conversion funnels, then the real fun begins. Now you can focus on Conversion Rate Optimization (CRO) to drive more consumers through your funnel. CRO is basically A/B testing on steroids. You want to test everything from website copy and images to increase the desired action. This could include optimizing the conversion funnels based on the source they were acquired from - Facebook, Google or elsewhere.
Predictive Intelligence and Artificial Intelligence
Once your marketing automation program is established, you're now ready to use behavioral insights and artificial intelligence to make each conversion funnel more efficient.
Think about Google's auto-search predict. The search engine is using your search history to find you the right results as efficiently as possible. To do this, Google has a myriad of factors that it calculates based on what it knows about your behaviors and the context of your search. If you are using your mobile phone you'll receive different options.
DMOs can apply Google's search concept to their website. Once your marketing automation program is built around customer journeys and conversion funnels, you can apply artificial intelligence to automate steps. Using your customer journey knowledge base, you can apply behavior insights to automate what consumers are looking for and deliver dynamic content that serves up personalized messaging based on the current visitor's journey.
Takeaways
Marketing technology (MarTech) is significantly changing how we market. DMO budgets are being threatened and stakeholders are demanding more from the DMOs. DMOs who fail to adapt [MarTech] risk being left behind. To prepare, DMOs need to build a transition plan to embrace these concepts—which doesn't happen overnight.
The first step for DMOs is to migrate away from singular vanity success measures and create an integrated view of their marketing activities and measure each step of their customer's journey. This will enable your destination to build attribution models that are focused on meaningful actions (sales, leads, sign-ups). The attribution insights will help your DMO measure and optimize every marketing activity and investment. Now your DMO can truly measure their return on marketing investment. Add in marketing automation and artificial intelligence and then you have the perfect blend of science and creativity. It's just not the Don Draper way of doing things.