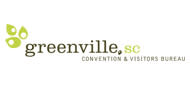 We have to warn you. One visit to Greenville, South Carolina - one walk down Main Street, one hike through the foothills, one unforgettable meal - is all it takes to fall head over heels in love. After all, this emerging destination and quickly growing city has a lot to offer visitors, including quaint shops, boutiques and fabulous restaurants to an excellent collection of museums, galleries, and theaters. Moreover, we have to mention the stunning rivers, lakes and mountains to explore around the area.
With so much to offer travelers, Visit Greenville SC deserved to put their best foot forward and decided to partner with Simpleview on enhancing their website - VisitGreenvilleSC.com - and developing a new mobile site - m.VisitGreenvilleSC.com. This included collaborating with Brains on Fire, a branding agency in Greenville, on a fresh design for both sites, while our development team worked on building the site around our content management system - Simpleview CMS. This allows for the city's convention and visitors bureau staff to update and maintain the site's content with no hassle.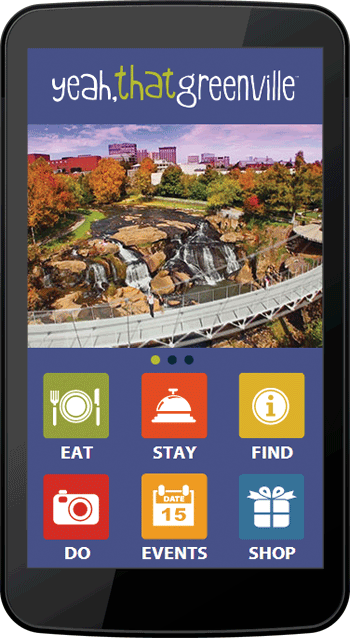 Some of the exciting features on the bureau's new sites include:
Social Media Integrations: To take advantage of all the photos and videos that people are producing while in their destination, Visit Greenville SC can bring that user-generated content into their site and share it with all of their visitors. Whether from Pinterest, Instagram, YouTube or Flickr, the CVB has several spots on their homepage and interior pages to broadcast the shots and scenes, which can be filtered by network.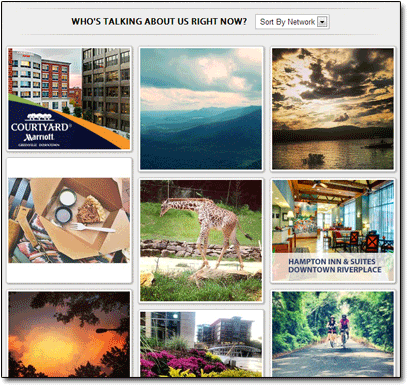 And grabbing all of the social content is easy, thanks to a custom social moderator we built into Visit Greenville SC's CMS. This allows for them to

Booking Widgets and Integrations: Why send visitors to go look for deals and offers on other sites when you can give them a one-stop spot? That's why we integrated booking capabilities for hotel rooms with aRes Travel - one of our strategic partners. This allows people to make reservations right from the home page or on a hotel's business page.
This includes integrations with OpenTable for the bureau's restaurant listings, allowing people to sit down at some of the city's finest and tastiest places to eat without combing the Internet for more information.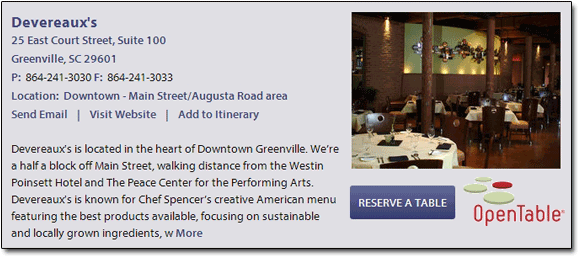 Revenue Streams: Working with our revenue generation division - Destination Travel Network - the bureau can allow for local businesses that accommodate travelers to place advertising on their site. Hotels, restaurants and attractions now have a targeted spot to reach potential and in-market visitors on several prime spots, including the home page and in drop-down menus. Subsequently, Visit Greenville SC now has a new revenue stream to invest into future marketing efforts from the placements.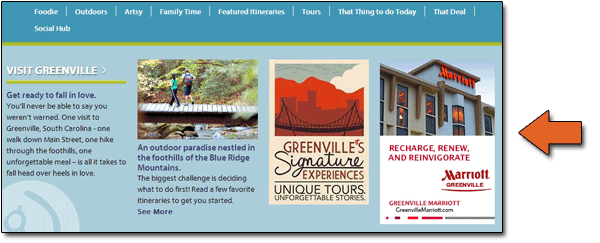 With so much to do and see in Greenville, the biggest challenge