Simpleview would like to congratulate Destination Irvine, Irving Convention and Visitors Bureau, Visit Anaheim, VISIT Milwaukee, and Experience Columbia SC for their recent 2018 Hermes Creative Award wins!
The Hermes Awards recognize outstanding work in the industry while promoting the philanthropic nature of marketing and communications professionals. These five DMOs were standouts among nearly 6,500 entries in total from throughout the United States, Canada, and dozens of other countries. Entries were submitted by corporate marketing and communications departments, advertising agencies, PR firms, design shops, production companies, and freelancers. Winners were selected from 195 categories grouped under advertising, publications, marketing/branding, integrated marketing, public relations/communications, electronic media, and pro bono.
Destination Irvine took home two Platinum Awards, one in the Website Overall - Business to Consumer category and one in the Strategic Programs - Digital Marketing Campaign category. Irving Convention & Visitors Bureau captured a Gold Award in the Website Overall - Business to Consumer category, and Experience Columbia SC received an Honorable Mention in the same category. Our Content Management System and Experience Design teams were proud to assist these impressive DMOs with the back-end tools and initial creative services for their award-winning websites. These honors just go to show what strong, dedicated collaboration and teamwork can achieve.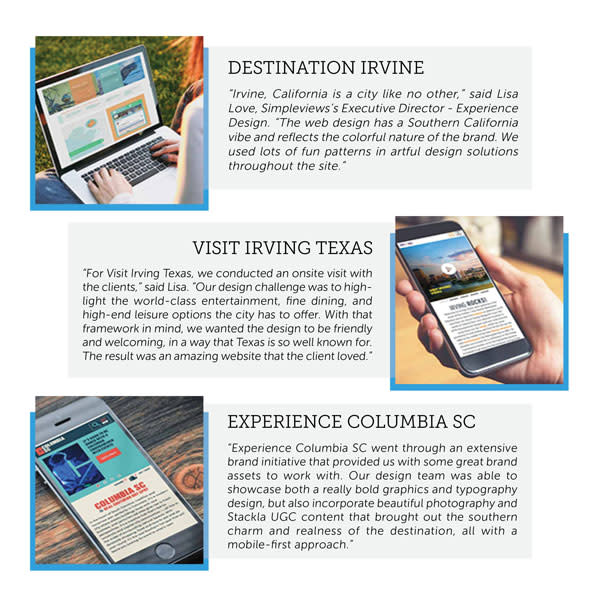 The Simpleview family would also like to congratulate Visit Anaheim, won two Gold Awards in the Strategic Programs - PR Campaign, and Video - Non Profit categories; and VISIT Milwaukee, who took home a Gold Award in the website Overall - Tourism Category. 
The Hermes Creative Awards competition is administered and judged by the Association of Marketing and Communication Professionals.  The international organization consists of thousands of creative professionals who oversee awards and recognition programs, provide judges, and reward outstanding achievement and service to the profession. 
Congratulations again to the hard-working destination marketing teams keeping their websites running strong, their visitors engaged, and making a mark in the tourism industry and beyond. A list of Platinum and Gold Winners can be found on the Hermes Creative Awards website at www.hermesawards.com.