Visiting Australia is a once in a lifetime opportunity for some, a bucket list item for most, and only a dream for many. Thankfully, I have been fortunate enough to travel there three times now, to the city of Perth where my family resides. Despite having family in Australia, it's still quite difficult to make it out there. The last time I had been to Perth was 23 years ago! This year I returned to celebrate my Grandfather's 100th birthday, whom I know affectionately as "Opa." I am truly grateful to work for a company that afforded me the opportunity to go on this trip and celebrate with him.
An Excursion South
During my two weeks down under, I had the opportunity to take a mini-vacation within my vacation, to the Margaret River area. I went to Busselton to see where they were setting up the Ironman 70.3 event. A bucket list item for me, the event was held just a day after my Opa's birthday, so unfortunately I had no time on this trip to participate.
Nonetheless, I ate fish and chips and walked along the shore to see the Jetty. I went to Dunsborough for breakfast for a couple of days and wandered through some art galleries. I listened and watched many colorful birds like Cockatoos, Twenty Eights, Kookaburras and my favorite -- Pink and Grey Gallahs! I stopped at Meelup Beach to take in its turquoise water and watch the surfers in Bunker Bay where we stayed at the Pullman Resort. I also visited Cape Leeuwin, to visit the lighthouse and see where the Indian and the Southern Oceans meet. I walked all the way up the lighthouse and stood at the top, outside, in awe of what I was witnessing; waves crashing in the middle of the ocean, distinguishing where the two oceans crashed against each other.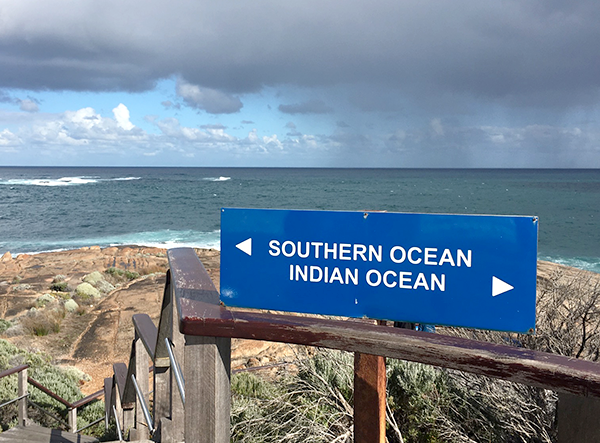 The trip down South wasn't complete without stopping in at an array of wineries, chocolate and cheese factories, and perusing along the road to see Kangaroos lounging in a paddock (a.k.a field) posing for my many photos.
Opa's 100th Birthday
Back in Perth, I spent a couple of days celebrating with my Opa and all of our family who had come from across Australia, America and even Holland. It isn't often someone celebrates his 100th birthday, and everyone wanted to be there (even the media)! My Opa is still sharp as a tack, and told stories of how he came to Perth in 1950 through Fremantle. He and my mother came from Holland by way of Indonesia. He talked of the history he had with working with the American Army as a translator for General Patton during WWII, after he escaped imprisonment form the German Army, and his subsequent position as a Vice Mayor of a local council in Bayswater in Perth.
I visited a local library in Morley named after my Grandfather for his service as a Vice Mayor. Unfortunately, the library was in the process of moving, however I did get a chance to see its new location. I must say, I am pretty proud of my Grandfather. It was a treat to be there to hear his stories. The media loved them just as much, and that evening we watched his interviews all over the local news.
Kalamunda and Memories with My Mother
The rest of my visit was spent taking a trip with my Mom into the hills of Kalamunda, where she and my Opa first settled. We saw her old school house, which is now in the Kalamunda History Village and still houses her old school photos inside. We went to the area where she played in the bush, and the creek where she would catch Yabbies (Crawfish) with her friends. She showed us where their home was located on Elizabeth Street, and the land my Opa once owned but generously gave to other Dutch settlers. Unfortunately their home is no longer there, but my mom's memories persevere and it was fascinating to hear her stories.
We spent some time in Whitman Park and visited the Motor Museum, and then explored Caversham Wildlife Park, where we pet and fed kangaroos and sleepy koalas, and then took our picture with a very large Wombat named Neil. We saw many of the local Western Australia wildlife in the park and some from other regions around Australia.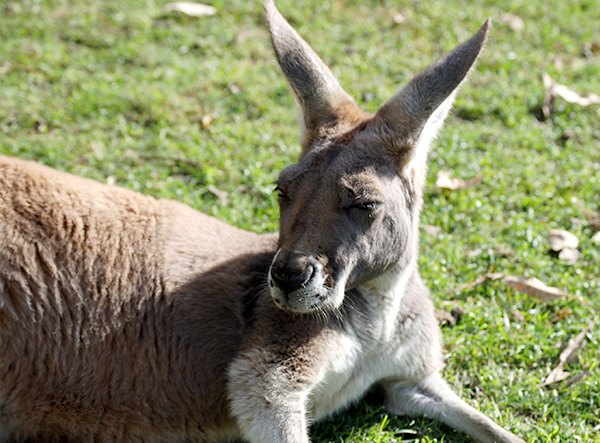 A Few Last Experiences for the Bucket List
Train and bike are common forms of transportation in Perth, and I thoroughly enjoyed this ease of travel which allowed me to see various homes along the way. We walked around in the "Arcades" where local shops were located, and picked up silly souvenirs and trinkets to bring home. I decided not to buy the kangaroo paw backscratcher - gross! We then meandered our way down to the new and developing area of Elizabeth Quay (pronounced: "Key"). There is so much progress in Perth that stands beside even more history; it's truly an impressive sight to see.
I had the chance to run along the Swan River, which is the same river that runs down near my uncle's home. This is also the same river that travels down to Fremantle, where we went to see my Opa's name marked on both the Welcome Wall and the S.S. MAETSUYCKER, the ship he and my mother arrived to Perth aboard in 1950.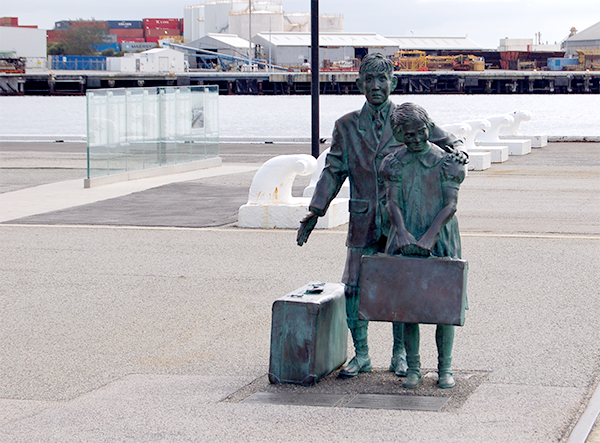 With my last few days, I indulged in more wineries in Perth that were needing a visit by me, and partook in a couple more great meals at a few local establishments. Eating meat pies, sausage rolls and drinking a few spearmint milks, as well as many other things that were done and places seen, were all checked off of my list of things to do.
I cannot express in words the impact this trip has had on me, and how much closer it has brought me with the history of my family. Whether or not you have relatives on another continent like Australia, I truly recommend making your bucket list trip a reality.