If we told you there was a tool that could help your DMO boost website content, support your marketing campaigns, and assist your destination's visitors and partners, what would you say? Sound too good to be true?
Well, with Map Publisher almost anything is possible when it comes to your DMO's editorial content strategy. Our Map Publisher tool empowers DMOs, meeting planners, and members/partners to create customized, branded event and destination maps to display online and print out. These maps can not only help your visitors navigate activities and events, but also visualize your content and listings on web pages and in apps in a way your visitors can interact with … all while helping bring business to your local partners!
Elizabeth White, Web Manager at Explore Asheville Convention & Visitors Bureau and a member of our CMS user group, took part in the beta testing of our Map Publisher tool for destination marketing organizations, and put it to the test on a key marketing initiative for her DMO and local businesses: Summer of Glass. 
The Marketing Campaign
The Summer of Glass microsite on ExploreAsheville.com promotes a 6-month-long glass art initiative, calling attention to local galleries, museums, art studios and tours that feature glass artwork. Sixty-three business partners currently participate, offering tours, exhibits, and demos. Multiple travel packages are offered, as well, and the initiative was highly advertised, according to Elizabeth, both locally and regionally.
"Summer of Glass has been really successful," says Elizabeth. She noted that 2/3 of the partner business participants in the campaign were not working with the DMO prior to the initiative.
The Interactive Map & The Tool Behind It
Elizabeth used an interactive map created with Map Publisher on the microsite to illustrate where each venue is located, enhancing the DMO's web content, informing interested visitors and locals, and encouraging foot traffic for local artists and business partners.

Elizabeth used initiative brand colors to customize the map's 63 plot points and map keys, helping set the map and the page apart from other content on the website.
Elizabeth liked the ease of use of the Map Publisher tool, both from the standpoint of her site visitors and her standpoint as a Simpleview CMS user.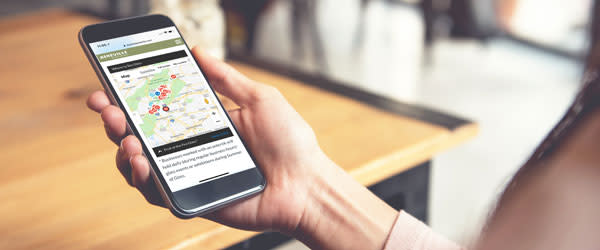 "We liked that it works with Google Maps, an interface most people know and use already," said Elizabeth. Having noticed a lot of mobile visitors, she was glad the map tool works well on mobile, too.
The option to view the Summer of Glass map on mobile phones makes it an even more handy tool for in-market visitors and locals, whenever they want to access directions to an art studio, hours of operation, or contact information.
"We liked the ability to display listing feeds as map points," she added, referring to the fact that Map Publisher can pull existing listings from your CRM into the maps you build. "You can not only pull listings, but add map points not in your CRM, so you can edit and customize your maps."
"It's the same interface that we're used to already. If you use the CMS and pull listings, it's the same, very user friendly," she added.
With the right relevant content and an easy-to-use, efficient tool to create it, your DMO can boost any seasonal event.
Read More
Read the Explore Asheville Map Publisher Use Case

Kansas Tourism features road trip maps on their website, and even promotes Fried Chicken Wars with them. Read about it here.

Simpleview featured an interactive scavenger hunt map as part of our Summit app. 
1. State of Interactive Content Marketing - Statistics and Trends, March 2018, 
Go Gulf