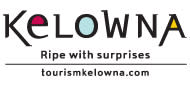 As the largest city located on stunning Okanagan Lake in British Columbia, Kelowna offers leisure travelers miles of beautiful parkland, sandy beaches for outdoor activities and plenty of other opportunities to experience the region's best qualities.
To attract visitors and keep their web content consistently fresh, Tourism Kelowna - the city's destination marketing organization - collaborated with simpleview on incorporating our content management system (CMS) with their main site and their golf-focused microsite. This project applied their existing site design to our platform, improving their ability to add new photos, videos and articles, as well as to interact with their member and partner businesses.
Some of the unique features of the site migration include:
Wine Listings - Many visitors go to Kelowna for the region's scenic vineyards and delicious, locally produced wine. As these wineries are all along a series of trails, Tourism Kelowna wanted visitors to be able to search and filter by the trail they want to go down. These listings are designated by their trail locations and can easily be updated as potential new vineyards open.
Breadcrumb Trail - As leisure travelers are exploring the Tourism Kelowna site for the latest information on the city's restaurants, hotels and attractions, they may want to get back to a specific page they visited. With our Breadcrumb Trail, one can see the exact path they took to get to the page they are on and get back to any of the previously visited pages too.
Custom Golf Course Listings - Mild weather, stunning scenery and 19 exceptional courses make Kelowna a must-play destination on every golf enthusiast's list. Therefore, we developed ways for visitors to sort each course by price and slope, making it easier to determine where to play.
Kelowna has a lot to offer travelers - pristine lakes, pine forests, abundant gardens, orchards and vineyards, scenic beaches, superb amenities...and now an improved web presence. We are proud to work with this forward-thinking DMO.
If you want to see some fun pictures from our CRM training trip with Tourism Kelowna, check out our Facebook page.