Google Search Console Performance Insights: Clicks, Impressions, CTR, and SERP Position
You've launched your site, organized your content, and focused on great value. But you're still looking for ways to boost your search rankings and organic traffic, and to improve the general informational value of your page, to humans and bots alike.
Google Search Console (formerly "Google Webmaster Tools") is a great place to find valuable insights into what people are searching for most often and some very basic demographics.
What is Google Search Console Performance Insights?
The Google Search Console Performance Insights tool shows you how frequently your site appears in Google Search Results (the Google Search Engine Results Pages, or SERP) and displays aggregated search term data and other related information. It is intentionally inexact. Google Search Console Performance Insights is meant to be an efficient tool, built to provide broad and useful information that gives you enough data, but it is not meant to be exhaustive. Data is intentionally aggregated from smaller clusters, so, again, it is not exact.
Google Search Console Performance Insights measures metrics for the search terms and results displayed in the SERP:
Clicks
Impressions
Click-Through Rate (CTR)
Average Position
It further breaks down data into dimensions, which allow for deeper cross-examination and analysis:
Search Queries (search terms typed into Google that show your page in the SERP)
Pages (which pages get how many clicks)
Countries (geography)
Devices (desktop, mobile, tablet)
Search Type
How Can I Use the Data Found in Google Search Console Performance Insights? 
Compare top search terms to the overall keyword quality of your site in order to find opportunities to add or update content.
Let's look at a live example. Here is the screenshot of the Search Console for the Simpleview Summit website. As you can see, a visual graph makes metric trends easier to understand. It also gives you options to add metrics or to further filter by adding dimensions.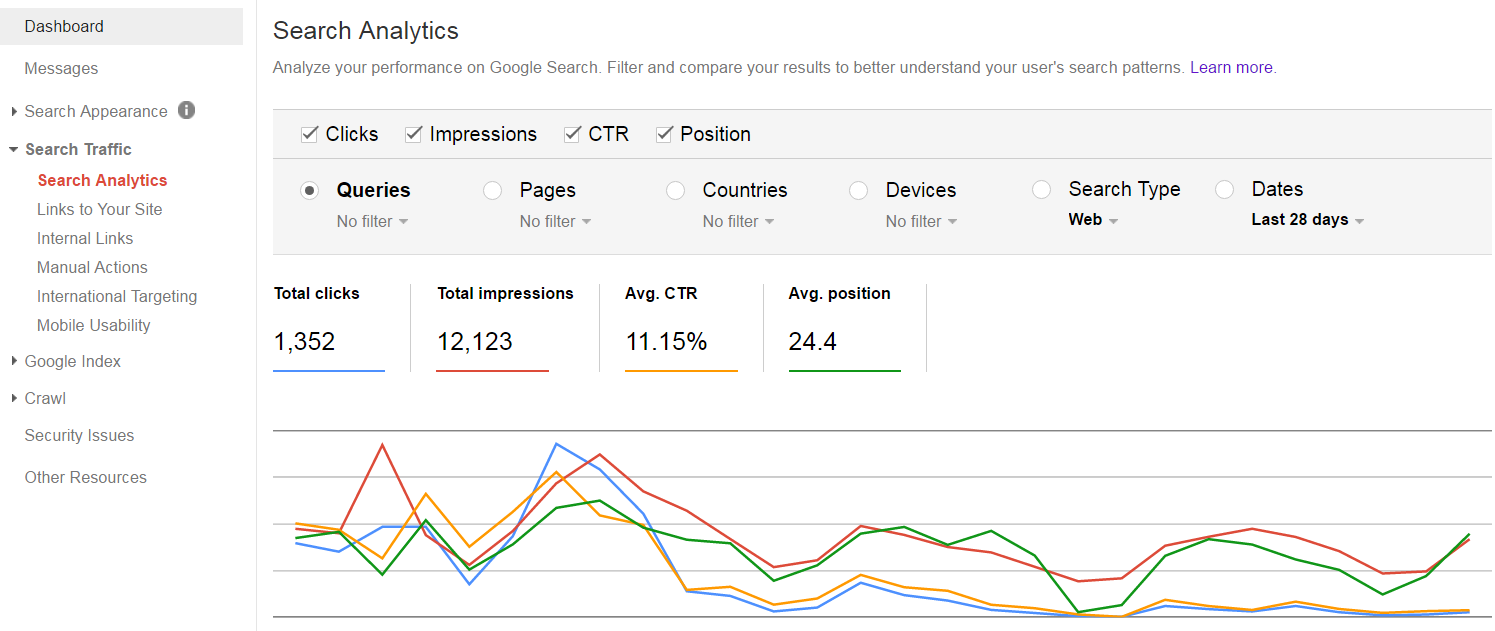 In the list below, since the "Queries" dimension is selected, the list will display all selected metrics for each search term. We can see "simpleview summit," which displayed the site, and we can see how many people saw it (impressions), and out of those, how many clicked on it, and the resulting click-through-rate percentage. We can also see that the site was #1 in the organic SERP position for this search term.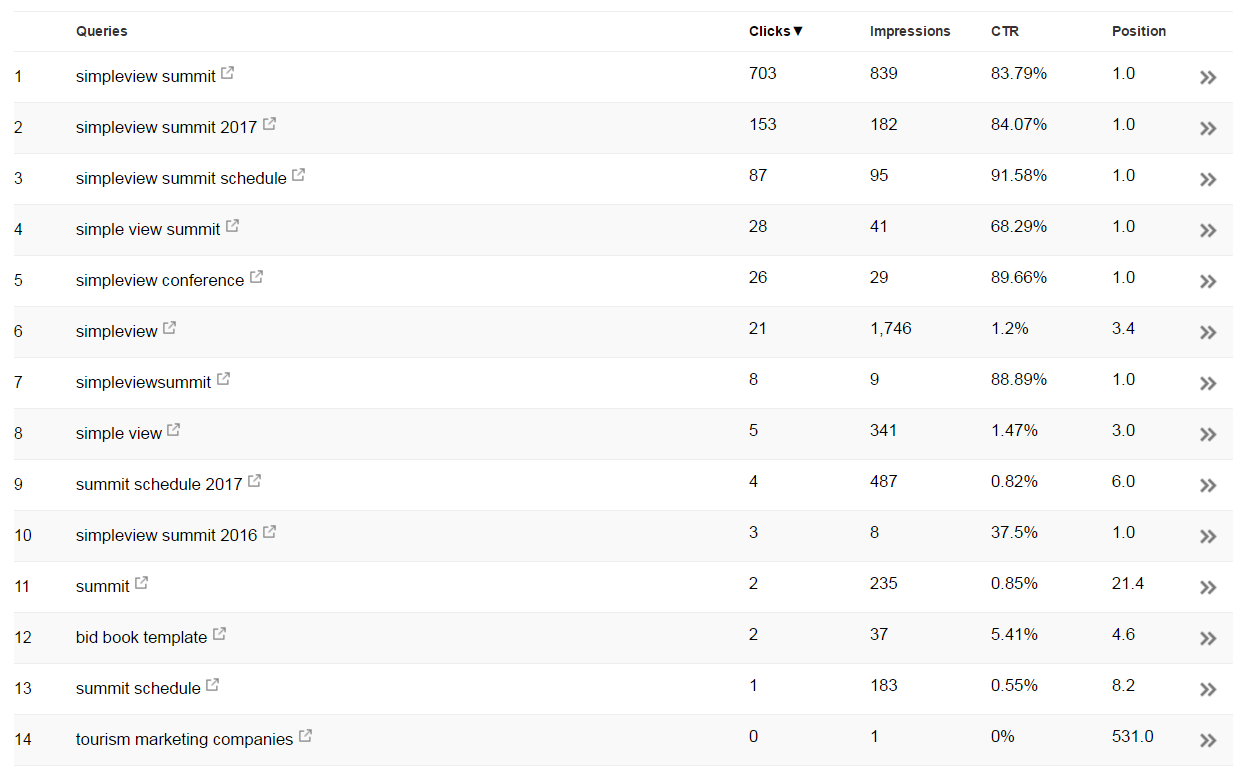 As we scroll down the list of search queries, we can see some related topics like car rentals in Phoenix, summit schedule, and tourism marketing companies.
While it's not a mistake that a search term like "tourism marketing companies" pulled Simpleview's Summit site, it's not a targeted enough search term in order for our site to provide relevant information to the searcher.
However, if one of the goals or KPIs for the Simpleview Summit was to emphasize or market a page directly related to tourism marketing companies, Google Search Console Performance Insights can tell us that the current site is NOT optimized to promote those keywords or that kind of content.

Also, within this short list of keywords that pulled the Simpleview Summit site into its SERP, we can see that "summit schedule" returned the site in the 8th SERP position, but as you can see, the CTR indicates the relevancy to be very low.
Most likely, users who searched "summit schedule" were not looking for Simpleview, even though Simpleview's site turned out to be optimized for that keyword.
As You Create or Optimize Content, Google Search Console Performance Insights Can Help You Make Quick Adjustments and Succinct Optimizations
Compare top search terms to the overall keyword quality of your site in order to find opportunities to add content.


If we look at the search term, "crm conference" in 49th position in the SERP, we might conclude that if Simpleview wanted to promote a CRM Conference, they would need to either optimize current content for that keyword, or create new content that provided an authority on the subject matter of CRM, which could be within their realm of influence, depending on their specific KPIs and business goals.
Keep in mind that you can complete similar analyses with Pages, Countries, Devices, and Search Type, in conjunction with your digital marketing strategy, in order to find problem areas, weak spots, and ineffective pages that need pruning or improvement to convey relevancy and subject matter expertise to your target audience.
Things to Keep in Mind about Google Search Console Performance Insights:
Its data provides inexact data but useful aggregated trends for making important and informed decisions.
The tool only stores the most recent ninety (90) days of data. Anything past 90 days of data is lost.
It provides keyword data that Google Analytics does NOT provide. Yes, you read that correctly.
It's best used in conjunction with a full Google Analytics account in order to not only identify important data but to discover what elements of your site need improvement.