A few weeks ago, Simpleview and 2Synergize hosted a webinar entitled "Easing the Complexity of Setting Sales Goals During a Pandemic" with panelists Rachel Benedick, EVP of Sales and Services, Visit Denver; Doug Bennett  SVP of Convention Development, Louisville Tourism; and Darren Green  SVP of Sales, Los Angeles Tourism & Convention Board.
The webinar, moderated by Christine "Shimo" Shimasaki, Managing Director, 2Synergize, featured a discussion on goal setting methods for both sales production and year-end goals.
Year-End Goals: Typically quantified by room nights (but can also be measured by number of events or attendees) year-end goals are based on arrival date within a specific year and used in pace reports to determine what will occur, or be consumed, in the year by year end. It is important to note that these metrics are not adjusted for pick up. Year-end goals are used for DMOs and hotel partners to determine if they are on target to reach their goal in any given year.
Sales Production Goals: Typically, also measured by room nights, sales production goals are based on the definite date, regardless of arrival, and are commonly used to set and track individual and team sales performance. Sales production goals are often tied to incentive programs.
It is interesting to note that there is a relationship between year-end (consumed) and sales production (booked) performance. The DMO Group Sales Channel Impact Study by Destinations International and Tourism Economic illustrates the parity that occurs between the two over time.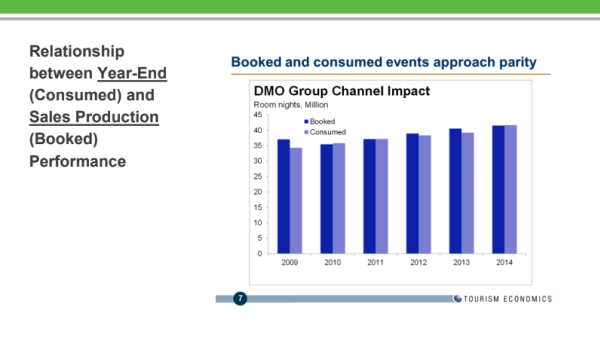 Should you rely on historical booking trends going forward? 
During the webinar, the presenters focused on sales production goals and the methods used by sales leaders to determine the right goals to outline booking performance measurements for their team. In a survey prior to the webinar, 72 DMOs identified the following methods as instrumental in setting sales team production goals: 
Historical booking trends by manager and market segment
Tentative pipeline
Booking window analysis
Direction from hotel stakeholders 
Senior sales leaders from Denver, Louisville and Los Angeles stressed the importance of these considerations, as they acknowledged that current market conditions created by the pandemic make relying on historical data obsolete, without considering how these metrics may change and will need adjustments throughout the year. 
There was consensus that keeping a pulse on recovery trend data and being in step with hotel stakeholders will be essential to goal setting for 2021. Additionally, there will be a need to shift goals to produce and monitor different sales behaviors beyond just room night production.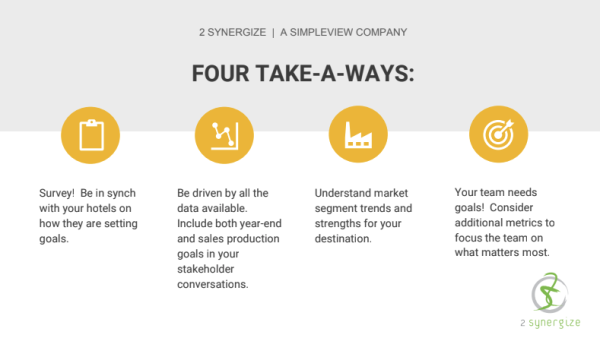 The more that sales professionals continue to stay connected and learn from each other, the better equipped we will be to meet the challenges ahead. Be sure to check out the webinar to help you navigate the process of setting goals for 2021, and stay tuned to The Meeting Place for the most relevant and pressing topics for DMO sales professionals. 
To see the full presentation deck used through the webinar, you can download it here.