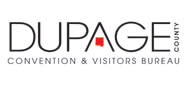 Another success story of a CVB getting it right! DuPage Convention and Visitors Bureau set all-time record highs in tourism revenues this year. According to the U.S. Travel Association and the Illinois Office of Tourism, visitors to DuPage County contributed $2.25 billion to the state's economy in 2012, a 4.8% increase over the previous year's revenue.

DuPage County, which is one of the most populous counties in Illinois, is a quick trip from O'Hare and Midway Airports, and, you guessed it - Chicagoland! Visitors go to DuPage County for business, pleasure (or a little of both), and indulge themselves with fine dining,  shopping and much more.

"Just a few miles west of the Chicago skyline, DuPage County has over 100 hotels, 16,000 guest rooms and nearly 2 million square feet of meeting space. With easy access to O'Hare and Midway, major interstates and commuter rail lines, we offer an attractive and affordable alternative to staying in the city," states Ms. Skip Strittmatter, Executive Director of the DuPage Convention and Visitors Bureau.

Congratulations DCVB on your record-setting year! Read more about their achievements from 2012 here.