DTN's Onsite Sales Mission to Estes Park, Colorado, By the Numbers
30 Current and potential advertisers we met with in 5 days
11+ Hours per day spent with clients, enjoying their success stories
10 Minutes into the valley before Elk appeared … everywhere
5 Number of times Lia has visited over the past 3 years, including two vacations, learning the backstreets and turning her into a tour guide this time around
3 Inches of snow we woke up to (surprise!)
2 Trips to the ER for altitude sickness (Yes, it's a real thing!)
1 Chase with wild turkeys to get track pictures
1 Amazing meal at The Rock Inn
1 One-of-a-kind adventure in Estes
Those are the numbers. But the story is this: The point of our journey, of the work, of the interaction, and the numbers, is to show that we understand what every DMO and it's local business partners understand: that a destination is all about the people that give it warmth and intelligence and laughter, the unexpected moments that give you memories to share and to keep, the stories the locals tell, and the flavors you can't forget. We strive to convey that understanding within every destination website, every local business ad. Whether you're a DMO, local restaurant, an inn, or an event venue, every place has a story to tell. We look forward to getting to know yours and sharing it with the world.
Some of My Stories from Estes Park
1) Personal Customer Service Trumps Anything with a Ringer
… from a reception bell to a phone
During one appointment, I was waiting for the owner of the inn, prepping for our meeting, when two walk-in customers came in to book lodging. Apparently, the inn's bell to indicate that there were people in the lobby wasn't working. (I had pressed it about 20 minutes before, but was prepping some so I didn't mind the wait and had lost track of the time. Business owners are incredibly busy in Estes!) The husband was getting frustrated, so I said, "I'll give her a call. She was just here, I am sure she is just helping someone." I picked up my phone, but there was no service, so I ran outside, stood in the parking lot, getting snowed on, in the hopes of getting reception. I didn't want the inn owner to lose the customer!
Success! I called her up and she ran right down, unaware until then that her bell wasn't working. She promptly helped her customers and secured a booking for two nights.
Like all business owners, the inn owner truly needed every client, so she was very happy I would dance around in the snow for her. Especially, being a native of Tucson. What can I say? DTN will do whatever is needed to help their clients succeed!
2) Snow Solutions for a Desert Dweller
What does a Tucsonan who wakes up to three inches of snow in Estes say?
"Snow way!"
Surprised to wake to several inches of snow, and even more surprised to see my car buried in it, I had to come up with a creative solution to remove said snow. Not one to be stifled by a lack of solutions, I ran inside, grabbed a sock, and used it as a mitten as I started to swipe the snow off of the car. I wound up wearing most of it, and when Gail saw me doing this, she ran outside with a broom and said, "This is what you need to use." I felt a little like a (snow) flake. I guess that's the difference between someone originally from Tucson and someone from Illinois. Swifter snow solutions.
3) You Won't Believe the Wildlife in Estes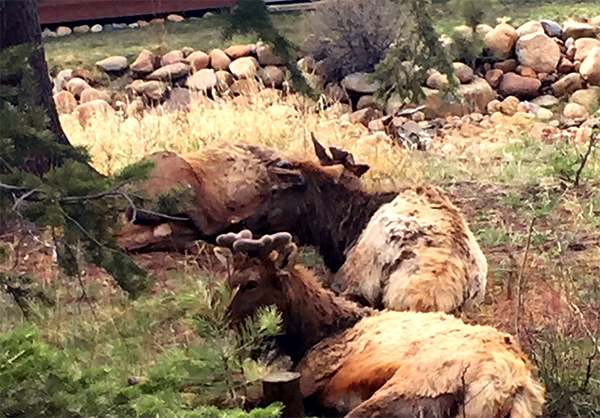 And no, I'm not referring to the nightlife. Cindy Lee and I tend to find that people do not believe the wildlife stories that we tell. (They think we exaggerate, can you imagine?) Our own Gail Stewart was one such nonbeliever. We had told her the elk were ALL OVER in Estes. In fact, the only true reason for being late to work in Estes, we told her, is an Elk traffic jam. The look on her face was priceless when we drove into the valley and within 10 minutes, you guessed it, Elk! Everywhere. I mean, everywhere. They were sleeping on the side of the road, roaming downtown, running along the lodging properties. Is Gail a believer now? Oh, yes, she is indeed!