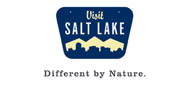 Salt Lake City is beautiful, safe and vibrant, offering visitors plenty of opportunities to enjoy Utah's largest city. One can enjoy its major metropolitan amenities and the locals' friendliness, all while being surrounded by the Greatest Snow on EarthTM. To help continually attract visitors with new and time-tested attractions, Visit Salt Lake - the official destination marketing organization for Salt Lake City - worked with our team to redesign their website.
The DMO has been a long-time client of ours and we had initially worked with the DMO on building their Simpleview content management system (CMS). Expanding our scope of services, Visit Salt Lake launched a fresh design from our creative team and a fully updated CMS. They also use our cloud-based customer relationship management system - Simpleview CRM - to hold all data on their partner restaurants, hotels and attractions in a centralized spot.
Some of the site's new features include:
Specific Look and Feel for Audiences - Visitors, meeting planners, media officials and others can go to VisitSaltLake.com and navigate the site in completely different ways. Special buttons, color schemes and modules were placed into each audience's section for them to find and use the information they need was ease.
Fully Loaded Dropdowns - Inside of each audience's section is a series of navigation buttons. Once you hover once any of them, widgets that highlight partner organizations, link to social content and more pop up without having to dive into the section. This is one more way the DMO can quickly provide targeted content.
Dual Image Headers - Visit Salt Lake has two opportunities to make their headers pop with two separate layering image files. This allows the destination to have a landscape style picture and then an "emphasis" shot to showcase people, places and other aspects to further highlight their destination.
Revenue Generation Opportunities - With our revenue-generation division - Destination Travel Network - Visit Salt Lake can offer their members and partners with viable advertising space. This boosts their overall exposure to visitors who need good places to eat, play and stay in Salt Lake City. The new site layout offers placements in the navigation dropdown, around the aRes Travel booking engine and other prime spots.
Pic of the Day Feature - Tying Visit Salt Lake's Flickr group to CRM, the DMO's staff can select pictures that users have submitted and highlight them on their new "Pic of the Day" feature. This gives more exposure to visitors who are taking pictures of their travels and helps develop a continual stream of fresh content to share on the site.
Dynamic Trip Builder - Planning your Salt Lake vacation isn't a drag, but you may enjoy dragging events, attractions and other areas of interest into the new Trip Builder. From the listings, visitors can compile spots and then organize them into a day planner. Printing and sharing the itinerary with family and friends is simple too!
New Comparison Tools for Meeting Planners - Meeting planners also enjoy Salt Lake for its extensive venue opportunities. When planning their next event, finding the best venue is an easy task with Visit Salt Lake's new comparison tools. The tools can filter venues by their banquet room capacity, ability to provide liquor service and other qualifiers. Then, planners can compare and map their selections, making the best choice with little effort in researching them.
These are just a handful of Visit Salt Lake's new modules and features, as we could write a thick book about all the ways the DMO can now engage their target audiences. We encourage you to check the site out for yourself and explore the many ways you can have a fun, exciting time in Salt Lake City.