I still remember the moment I heard Gary Vaynerchuk tell an audience of almost 20,000 people that "if you aren't marketing in Zuckerberg's world, you might as well be marketing into a trash can." This message is partially responsible for change in my career and still resonates with me today as I work with Destination Marketing Organizations (DMOs) on how and where to spend their digital marketing dollars. There's no doubt that your DMO should be using Facebook to market your destination, but you should do so with avoiding these top costly mistakes that Sam Keithly discussed on Episode 50 of Simpleview's The Layover Live.
Know Your Campaign Objective
Like with any campaign you run, before you set up anything, you should start by clearly defining your objective.  What is it that you are trying to accomplish? Are you trying to sell something? Are you generating leads or maybe clicks to your website? Once you determine your goal, you can then figure out which metrics are most important and then optimize around those. Facebook helps take some of the guesswork out of this by having 11 pre-defined objectives in the categories of Awareness, Consideration, and Conversion. Depending on what objective you choose, you will have additional optimization and bidding options available throughout the campaign setup process. By telling Facebook what you are trying to achieve, the system will provide you with the best tools to do it. Find out more about the Facebook pre-defined objectives at Ad Espresso, which lays them out well.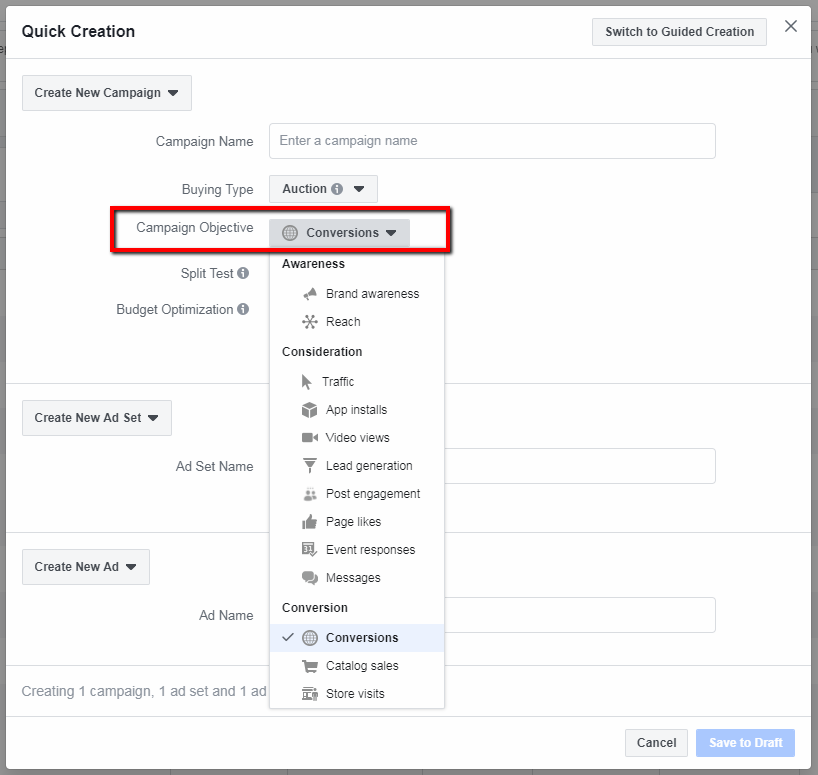 Do You Know Where Your Ads Are Showing?
Pay attention to where your ads are running. As we know, Facebook owns Instagram but they're two very different platforms. An ad that works really well on Facebook may not be successful on Instagram. Also remember that your ads can show on the Facebook Marketplace, in Stories, and on Messenger. Each placement could have very different result,  so be intentional when selecting them.
Always Be Testing
If you talk to Michele or Hannah, our CRO Analysts here at Simpleview, they will tell you to always be testing. Facebook has so many different ad placements and targeting capabilities, you need to be able to produce different creatives and regularly test them to see which message performs best for which placement and for what audience. Additionally, Facebook has a built-in Split Test tool that will help you easily isolate your variables to define clear winners. With that said, I know we don't always have the time (or budget!) to diligently plan highly controlled A/B tests. That's where the power of machine learning comes in to play!

Let the Machines Do the Heavy Lifting
Just in the past few years machine learning and artificial intelligence (AI) capabilities have improved by leaps and bounds. When it comes to Facebook advertising, marketers can employ an infinite number of combinations as far as placements and targeting go, so utilize machine learning to help you figure out which combination works best. So you aren't a developer or don't have one on staff? There are affordable marketing assistants out there that use AI to automatically test and optimize campaigns across multiple platforms, including Facebook.
The Times They are a Changin
One thing to keep in mind with Facebook is that the platform and its landscape are constantly changing. If you haven't checked your campaign or ad set settings in a while, you may want to take a peek to see if there's anything new available to you that's worth trying out. Facebook is always trying to improve its advertising services so check this page each month to learn about updates, feature releases, and more.
Compare Apples to Apples
Finally, one thing I hear a lot from our clients is that they're comparing their Facebook results to what they're seeing with Google Ads. These two platforms are very much push versus pull, so you aren't comparing apples to apples. With Facebook, a person isn't always actively looking for what you have to offer. But on Google, they are. They're searching on terms relevant to your destination, so the intent is very different which means you can't expect your campaigns to perform the same.
Nobody Likes Throwing Cash in the Trash
Working with a limited paid media budget is a common DMO obstacle, so it's important to make sure you're getting the most of your marketing dollars. Facebook has unparalleled audience granularity and with over 2.25 billion monthly active users, these tips will help you find the right people to visit your destination without misspending your budget. Remember to always start off with the right campaign objective. Change and test new creative and targeting continually, or invest in machine learning to help. Also, check your old campaigns settings, and ditch the idea that what works in Google will work in Facebook.
If you don't already have a paid media engagement with Simpleview, I would recommend contacting your Simpleview Account Manager to explore what we can do to assist you with your goals. We're here to help!