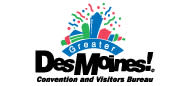 Greg Edwards, president and CEO of the Greater Des Moines Convention and Visitors Bureau, has been appointed as the new chair of Destination Marketing Association International's (DMAI) board of directors.
According to an article from Meetings Focus, Edwards will oversee strategic planning, the organization's direction and its efforts to advocate for tourism worldwide in his new position for the next year.
"We have an opportunity to impact change in a major way," said Edwards. "The resources that DMAI provides its members are an invaluable source for all destination marketing organizations (CVBs). With this dedicated team, we will work towards strengthening tourism advocacy through each of the destinations we work alongside."
As the Greater Des Moines CVB is a Simpleview client, we would like to congratulate Edwards on his new role and DMAI for selecting such an excellent leader to lead their board of directors.
For more information, read the full article on Meetings Focus.