Palm Beach is a great place to explore and experience Florida. The abundance of natural beauty combined with the local community's hospitality makes Palm Beach County a place where visitors enjoy the time of their lives! We recently worked with Palm Beaches Conventions and Visitors Bureau, incorporating their new website design with Simpleview CMS.
In addition to the new design and content management system, the new PBCVB website is equipped with multiple user-friendly website widgets that attract visitors to explore the website in more depth via rotating images, special offers and more. 

And what is a trip without an itinerary? The website now offers visitors the ease of an interactive schedule builder. Visitors select "Add to Itinerary" for a listing and it is automatically placed into the Itinerary Builder. From there, visitors drag the listings into the different days to help them plan an awesome vacation.
Finally, PBCVB can sort the appearance and placement of events on their website, based on their decisions of priority. For example, PBCVB can ensure a special event appears at the top of their listings, with sponsored events below and so on. This is a major advantage for advertising and marketing efforts, since we know that the events section is usually the most visited of a DMO's website.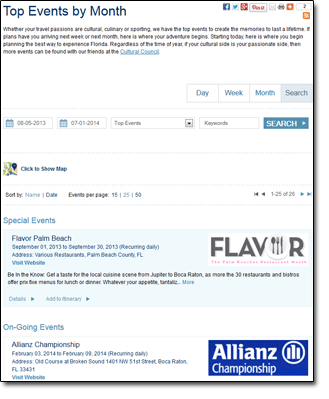 Explore the new site for yourself and Discover The Palm Beaches!