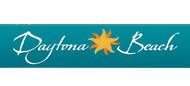 What's the first thing you think of when you hear 'Daytona'? Beaches, nightlife, shopping? Or maybe - Daytona 500!? The Daytona Beach Area CVB has launched a new site to help visitors and locals find just the right way to Discover Daytona Beach!
The goal of every website is to draw visitors in; from the top of the page to the very bottom. Each area of the new homepage is broken into separate areas with visual and content queues. Other notable areas are the scrollable media gallery and the Social Pit Stop.
 The Daytona Beach Area CVB created the Social Pit Stop as the one-stop shop for all their social media platforms and a nod to the Daytona International Speedway. There is an icon at the bottom of the home page, as well as a link in the header navigation, so visitors can catch up the social media highlights.
The CVB also added their blog to the new site. Their blog is updated with new content that helps their website rank higher on search results. It's also another way to provide visitors with information on the latest happenings in the area.
 If you're looking for beach, fun, and sun - then look no further than Daytona!