You told us what you wanted, and on February 1, we delivered, launching our Digital Passport tool.
Our DMO clients kept telling us that a Digital Passport seemed to be one of the clearest ways to demonstrate value to local partners through an app. For example, a DMO and partner restaurant can see the number of times a restaurant's listing was viewed on the destination website in the Benefits Summary tab in CRM, yet they can't see how many of those views actually translated to real people spending money at the restaurant. With the Digital Passport tool, DMOs can more powerfully demonstrate value by showing each partner how many venue check-ins were completed through the app. Since these check-ins have to be made at the restaurant/destination, each one represents real foot traffic through a partner's doors.
Grand Rapids Use Case
Experience Grand Rapids Convention & Visitors Bureau gave us the right opportunity to build out this tool. They asked us to convert their printed Brewsader Passport into an app. The DMO has had tremendous success with their passport in the past, distributing over 100,000 of the books and having over 9,000 people complete them to claim their prize, but they would hear complaints about how their users didn't always remember to bring the book with them when they'd go to a brewery. Since they do always have their phones with them, an app seemed to make a lot of sense. Speaking of cents (hey-Oh!), leveraging an app was also an attractive proposition because they would no longer have to deal with the printing costs associated with the physical booklet.
February 15th marks the beginning of "Beer Month" in "Beer City," so it was crucial that the app Experience Grand Rapids was requesting be live in time for their big annual promotion.
We created the Brewsader Passport mobile app for Experience Grand Rapids by February 1, with functionality for showing:
a list of all participating destinations and the level of brewery check-ins they've received
brewery/restaurant details, from a venue description to directions and a phone number
check-in validation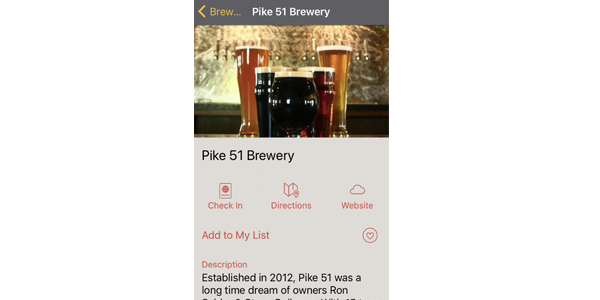 A status indicator at the top of the list shows:
Their current level
Their current number of check-ins
The name of the next level to achieve
The number of check-ins needed to achieve the next level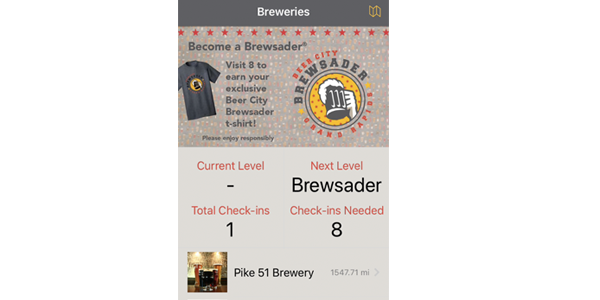 The app allows the DMO to create a brewery tour experience with multiple achievement levels for users, set participation and brewery check-in requirements for validation of visits, and collect visitor data to prove user engagement and partner traffic.
"Experience Grand Rapids has had a successful printed beer passport for two years. We chose VisitApps as our vendor to bring our passport into the digital age. Being the first app that I have ever worked on, I was not sure what to expect. The VisitApps team has been an extremely valuable partner to collaborate with during this process. They are very knowledgeable and always responsive to my many questions. Plus, the fact that VisitApps is integrated with our Simpleview CRM has been a major timesaver."

-Kate Herron, Director of Marketing, Experience Grand Rapids


How Digital Passports Can Work for YOUR DMO, too
A food and beverage passport like the Grand Rapids Brewsader Passport is just one example of how this new tool can be implemented for a destination's in-market visitor. It can also be used to gamify an app through a city-wide scavenger hunt. It can make a walking tour more engaging. The passport tool can even be used for meetings apps to create a scavenger hunt for attendees or give them an incentive to visit exhibitor booths.
Depending on your end goals, you set the capabilities of the passport to meet your visitors' plans, your partners' expectations, and your needs. To find out more about Digital Passports, check out our Simpleguide.