Every month, Simpleview's Digital Marketing Department comes together to discuss ongoing projects and topics like the evolving digital marketing space and how the latest industry trends affect DMOs. At the end of the year, we rally together once more for a final brainstorm to discuss how to improve our services, adapt for those changes, and make a forecast for the coming year to provide you, the client, with the very best in the industry.
We wanted to spruce things up a bit this go-around, and what better way to do it than to include a company-wide favorite, COOKIES! We were bursting at the seams with not only great ideas but holiday confections as well! Since you couldn't make the brainstorm, we thought you might want to check out what the Digital Marketing team brought to the table during our cookie exchange. Get that ice cold glass of milk ready: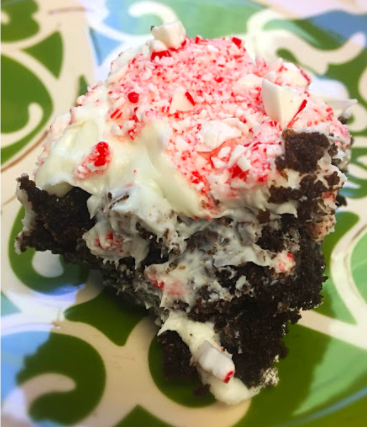 Peppermint Brownies
Adapted from the Pillsbury Brownie Mix - made by Michele Barnes (p.s. we know this is not really a cookie, but it's just as delicious) 
Ingredients
Instructions
Follow the recipe for your brownies and bake.
Mix ½ teaspoon of peppermint extract with white frosting.
Open the candy canes, place in a bag, and smash to smithereens.
Once brownies are baked and cooled, spread frosting on brownies.
Take a spoon and sprinkle crushed candy cane pieces on top.
Sometimes baking is like optimizing your website. You start with a really solid recipe, and then you tweak it to achieve what you want. Brownies from the box are delicious, but add a little frosting with a twist of peppermint and you've created an entirely different experience. We present to you a new "CRO" (Cookie Rate Optimization). #noshame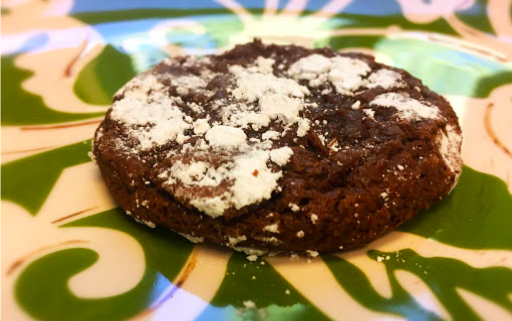 Chocolate Crackles
Adapted from The Busty Baker - made by Samantha Keithly
Yield: Makes about 4 dozen
Ingredients
1 cup unsweetened cocoa powder
2 cups granulated sugar
½ cup vegetable oil
4 large eggs
2 teaspoons vanilla extract
2 cups all-purpose flour
2 teaspoons baking powder
½ teaspoon salt
1 cup confectioners' sugar
Instructions
In a medium bowl, whisk together flour, baking powder, and salt; set aside. In a separate medium bowl, stir together cocoa, white sugar, and vegetable oil. Beat in eggs, one at a time, then add vanilla, stirring to combine. Add in flour mixture and stir until combined. Cover with plastic wrap and chill in refrigerator for 4 hours, or up to overnight.
Preheat oven to 350°F. Line cookie sheets with parchment or a silicone baking mat. Put confectioners' sugar into a small bowl. Using a 1-inch cookie scoop or rounded tablespoons, roll dough into balls with your hands, then roll in confectioners' sugar to coat. Place on prepared cookie sheets, 2 inches apart. Bake 10 to 12 minutes. Let cool on cookie sheet for 2 minutes, before transferring to a wire rack to cool completely.
The perfect balance of ingredients makes for the best recipe for cookies. When it comes to the right recipe for paid media, DMOs want to make sure to have the perfect balance between search, display, social and other forms of advertising to get the best results and accomplish the right goals.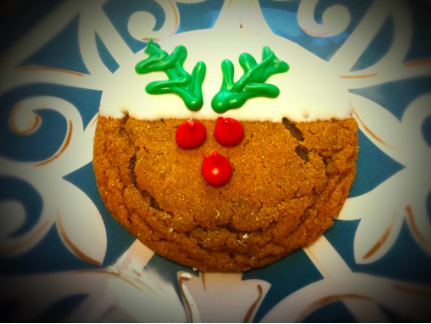 Chewy Ginger Molasses Cookies
Adapted from Gimme Some Oven - made by Shannon Dunn
Ingredients
1 ½ cups butter, softened to room temperature (not melted!)
2 cups granulated sugar
½ cup molasses
2 eggs
4 cups all-purpose flour
4 teaspoons baking soda
2 teaspoons ground cinnamon
2 teaspoons ground ginger
1 teaspoon ground cloves
1 teaspoon salt
Instructions
Preheat oven to 375°F.
In a medium bowl, whisk together flour, baking soda, cinnamon, cloves, ginger, and salt. Set aside.
In the bowl of an electric stand mixer, beat together butter and sugar on medium speed for 2 minutes until light and fluffy, scraping down the bowl if need be. Mix in the eggs (one at a time) and molasses, and beat on medium-low speed until each is combined. Gradually, add in the dry ingredient mixture and beat until combined.
Place a sheet of plastic wrap directly on top of the dough (so that it's touching the entire surface and preventing air from getting in) to completely cover it. Then refrigerate dough for 30-60 minutes, until it is completely chilled.**
Roll the dough into small balls, about 1-inch in diameter. Fill a small bowl with sugar, and roll each ball in the sugar until it is completely coated. Place on a cookie sheet at least 1-inch apart, then bake for about 8-10 minutes, until the cookies begin to slightly crack on top (they will probably crack more while cooling). Remove from the oven and let cool for 1-2 minutes. Transfer the cookies to wire racks to cool completely.
Serve immediately or store in a sealed container for up to 1 week.
*In order for the butter to mix well with the sugar, it truly needs to be softened to room temperature for this recipe. If it is too hard, or too melted, the creaming process won't work its magic and you may have flat cookies as a result (still tasty, but flat).
**It is essential that the dough be thoroughly chilled with this recipe before baking. Otherwise, the dough will be soft and difficult to form into balls, and the cookies will flatten out significantly while baking.
These chewy ginger molasses cookies are soft, sweet, and unbelievably good.This cookie not only looks amazing, but tastes amazing as well. When it comes to a website using its ads to draw visitors in, make sure you have the right balance of content to provide them with the experience they expect.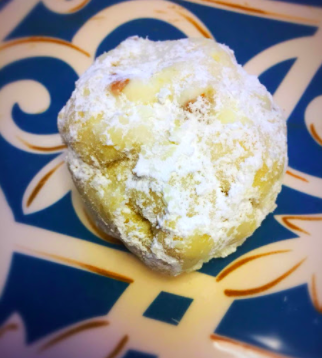 Mexican Wedding Cookies
Adapted from the Simply Simpatico cookbook (Women's League, New Mexico) - made by Josette Arvizu
Yield: makes 2-3 dozen depending on the size of the cookie balls
Ingredients
1 cup powdered sugar
1 cup softened butter
2 cups sifted white flour
1 tablespoon vanilla extract
1 cup walnut pieces
Additional powdered sugar for post-baking
Instructions
Preheat the oven to 350° F.
In a bowl, cream the powdered sugar with the butter using a wooden spoon or flat spatula to mix.
Add the sifted white flour a little bit at a time along with the vanilla to the mixture. Once the dough is well mixed and firm, you can use your hands to ensure all ingredients are scraped from the bowl into the cookie dough.
If you have large walnuts (no shells), that are wholes or halves, make sure to break them up by putting them in a sealed plastic bag and hitting them with a rolling pin or use a food processor to break them up into much smaller pieces. Add the nuts by hand, folding them in.
Roll the well-mixed dough into 1-inch balls and place them 2-3 inches apart on a cookie sheet.
Bake at 350° F for 12-15 minutes or until set (the bottoms will be slightly brown).
Cool for 15-20 minutes, and roll in additional powdered sugar, while cookies are still warm (don't roll the cookies when they are piping hot or the powdered sugar will glaze rather than become a snow-like covering).
These cookies are the perfect marriage of ingredients! Each component is like that of a great content creation plan. The flour is the data-driven strategy, the ingredient that gives your plan substance. The sugar is the sweet stuff - the style of your brand's content, plus the inspirational sweet spot. The nuts are the extras that make all the difference in your content roadmap - the seasonal stuff, wildcards, nutty ideas, changes to social channels and digital trends. The butter and vanilla is the CMS integration that holds it all together. Finally, give it time—no half baked content!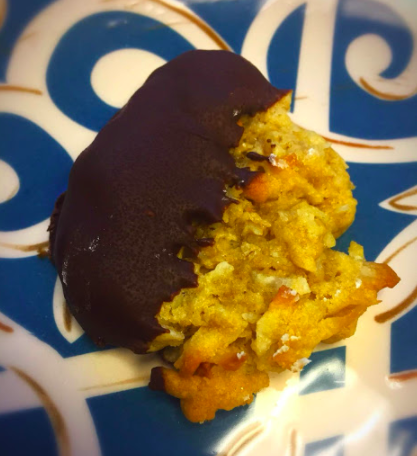 Chocolate Dipped Coconut Cookies
Adapted from a Family Recipe - Made by Heather Kaylor-Mayhew
Ingredients
½ cup butter
1 cup brown sugar
1 egg
1 teaspoon vanilla extract
1 cup flour
½ teaspoon salt
½ cup oats
7 oz. sweetened coconut
chocolate chips
Instructions
Preheat oven to 375° F.
In a bowl, cream butter until fluffy, then add your sugar and mix until combined. Add egg and vanilla extract, and mix.
In a separate bowl, mix your dry ingredients together.
Add the dry ingredients to the creamed butter mixture, and mix until smooth.
Fold in oats and coconut.
Drop in balls on a cookie sheet.
Bake for 12 minutes.
In a double broiler, heat chocolate chips until melted and dip your cookies.
I just like to eat cookies, but having too many can cause problems. When it comes to site maintenance, make sure you regularly check your site to remove any unnecessary pixels as these may cause issues down the line.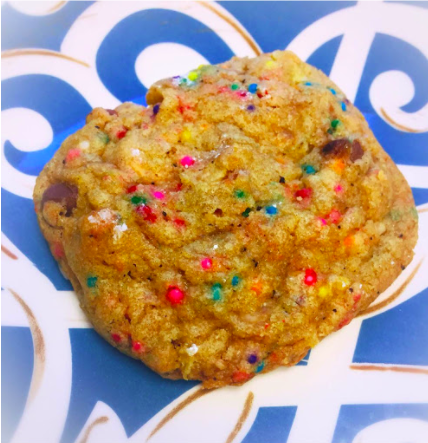 Crazy Confetti Compost Cookies
Adapted from How Sweet Eats - made by Andrea Miranda
Yield: 18 Cookies
Prep time: 20 Minutes
Cook time: 10 Minutes
Ingredients
1 ½ sticks (12 tablespoons) of unsalted butter, melted and cooled
1 cup loosely packed brown sugar
½ cup granulated sugar
1 large egg + 1 egg yolk
2 teaspoons vanilla extract
2 cups all-purpose flour
½ teaspoon baking soda
¼ teaspoon salt
¾ cup crushed salt and vinegar potato chips
¾ cup chocolate chunks
½ cup crushed salted pretzels
? cup graham cracker crumbs
? cup chopped heath bar
? cup peanut butter chips
? cup assorted sprinkles
½ tablespoon coffee grounds
Instructions
Preheat oven to 325°F. In a bowl, mix together flour, baking soda, and salt, then set aside.
In another bowl, whisk the cooled butter and sugars until they are combined. Add the egg, egg yolk, and vanilla. Stir until mixed and smooth. Gradually add in dry ingredients and mix with a spoon until a dough forms – it will look crumbly at first, but it will come together. Fold in all of your add-ins here.
Roll dough into 1 1/2-inch balls and place on a nonstick baking sheet about 2 inches apart. Bake for 9-12 minutes, or until the middles are just set. Don't over bake! Let cool almost completely.
The flavor of this cookie is like Google's algorithm for organic rankings. You get hints of a flavor here and there. We don't know every part of it at once, but we know we like it. Now if only we could unveil their recipe.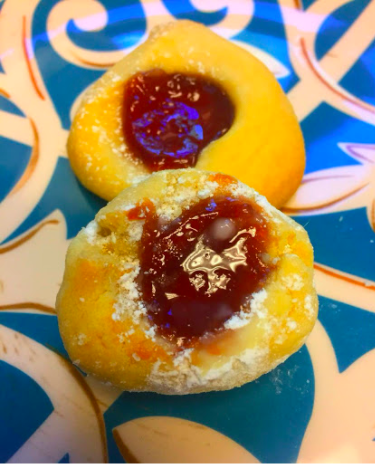 Raspberry Jam Thumbprints
Adapted from Southern Living - made by Leanna Gonzalez
Ingredients
1 cup unsalted butter
¾ cup powdered sugar
¼ cup packed light brown sugar
1 large egg yolk
1 teaspoon vanilla extract
3 cup all-purpose flour
½ teaspoon kosher salt
½ teaspoon baking powder
1 cup seedless raspberry jam
4oz white chocolate baking bar (optional)
¼ cup heavy cream (optional)
Instructions
Preheat oven to 375°F with oven racks in the top third and bottom third of oven. Beat butter and both sugars with an electric mixer on medium speed until smooth, about 1 minute. Add egg yolk and vanilla, and beat on low speed until fully mixed. Whisk together flour, salt, and baking powder in a small bowl, and gradually add to butter mixture, beating on low speed just until incorporated after each addition.
Drop dough by tablespoonfuls 1 inch apart onto parchment paper-lined baking sheets. Press your thumb or the end of a wooden spoon into each ball, forming an indentation. Add jam before or after baking (it's your preference, but I like it before).
Bake in preheated oven until cookies are set and beginning to brown, about 12 minutes total, switching pans (top rack to bottom rack, halfway through baking). Cool on pans on wire racks 5 minutes; remove cookies to wire racks, and cool completely, about 30 minutes.
Combine white chocolate and cream in a small heatproof bowl. Bring a small saucepan filled with 1 inch of water to a simmer over medium, and place bowl with chocolate mixture over simmering water. Cook, stirring often, until chocolate is melted and smooth, about 2 minutes. Cool 10 minutes. Spoon chocolate mixture into a ziplock plastic freezer bag with 1 corner snipped or into a piping bag. Pipe mixture over cookies.
This cookie is like a website. The cookie itself is the foundation and vessel. Almost anyone can make a cookie (website). However, by adding a special raspberry jam (the content), you can turn a plain cookie into something more enjoyable for everyone tasting it. Are you jamming on your website?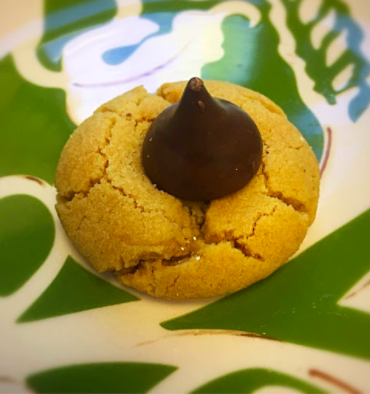 Peanut Butter Crisscrosses (with Hershey Kisses)
Adapted from the Betty Crocker Cookbook - made by Ben Holman
Yield: Makes about 35 cookies
Ingredients
½ cup peanut butter
¼ cup shortening
¼ cup margarine or butter
1 ? cups all-purpose flour
½ cup sugar
½ cup packed brown sugar
1 egg
1 teaspoon vanilla
½ teaspoon baking powder
½ teaspoon baking soda
Sugar (for dipping fork)
Instructions
In a bowl, beat peanut butter, shortening, and margarine/butter with an electric mixer on medium-high speed for 30 seconds or till softened
Add about half the flour, the sugar, brown sugar, egg, vanilla, baking powder, and baking soda to the peanut butter mixture. Beat till thoroughly combined. Then beat/stir in remaining flour. If necessary, cover and chill dough until it is easy to handle.
Shape dough into about 1-inch balls. Place 2 inches apart on an ungreased cookie sheet. For Peanut Butter Kiss Cookies, do not flatten before baking. After baking, slightly press a milk chocolate kiss into each hot cookie. For "Kiss" less cookies, use the tines of a fork dipped in additional sugar, to flatten balls to about ¼ inch by pressing fork in 2 directions to form crisscross marks. Bake in 350°F oven for 12-14 minutes or till bottoms are lightly browned. Remove cookies and cool on wire rack.
Just like these cookies are better when combined with Hershey kisses, for paid media, your engagement metrics can improve by combining audience data with your accounts and utilizing remarketing.
Classic Molasses Cookies
Adapted from the Betty Crocker Cookbook  - made by Aaron Pickering
Ingredients
1 cup packed brown sugar
¾ cup shortening
¼ cup molasses
1 egg
2 ¼ cups all-purpose flour
2 teaspoons baking soda
1 teaspoon ground cinnamon
1 teaspoon ground ginger
½ teaspoon ground cloves
¼ teaspoon salt
3 tablespoons granulated sugar
Instructions
Heat oven to 325°F. In large bowl, beat brown sugar, shortening, molasses and egg with electric mixer on medium speed, or mix with spoon. Stir in remaining ingredients except granulated sugar.
Shape dough by rounded tablespoonfuls into 1 1/2-inch balls. Dip tops into granulated sugar. On ungreased cookie sheet, place balls, sugared sides up, about 2 inches apart.
Bake 13 to 16 minutes or just until set and cookies appear dry. Immediately remove from cookie sheet to cooling rack.
Making good cookies is like making a good dashboard report. Everything has to line up perfectly, while never adding too much of any one thing. Just make sure they are not half-baked, and never cook the book!
That's a wrap on this year's Digital Marketing Department cookie exchange recipe blog. If you decide to try some of these recipes, be sure to share them on social media using #simpleviewcookies.

For more fun content from Digital Marketing, subscribe to The Layover Live on YouTube, and don't forget to submit your digital marketing questions for our experts to answer on one of our upcoming episodes. Happy holidays!