This article begins a series on mobile that we'll continue in the coming months, updating stats and information from time to time as this fast-moving marketing channel continues to evolve.
Mobile Breakdown: Smartphones @ 19% Sales Worldwide
Industry analysts broadly divide today's mobile market into two categories: smartphones and everything else. According to recent research by Gartner, smartphones accounted for 19% of worldwide mobile device sales in Q2 2010, a 51% increase year over year.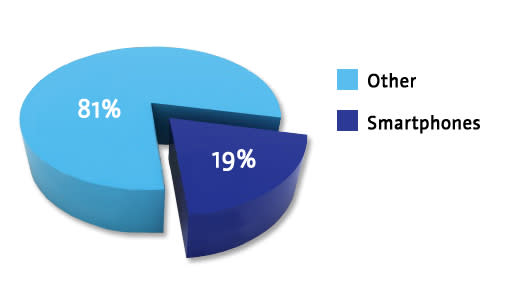 Competing Smartphone Operating Systems
Not long ago, a smartphone meant a built-in calendar, address book and to-do list. Today, these are entry-level features. "Smartphone" indicates a phone that can run third-party applications ("apps").
Like a PC, a smartphone has an operating system (OS). But unlike the world of PCs, Microsoft is a minor player in mobile. Instead, the most popular operating systems globally are (in order) Symbian (Nokia), Blackberry (Research in Motion), Android (Google) and iOS 4 (Apple).
The fastest-growing OS is Android, which recently shot to #1 in the United States. Unlike other top contenders, Android is the only OS not tied to a single manufacturer (e.g. iOS 4 only runs on iPhone).
The Difference between Mobile Sites and Mobile Apps
The difference between a mobile site and an app is a lot like the difference between web-based CRM and CRM that lives on your local server. Here's a quick look at key differences: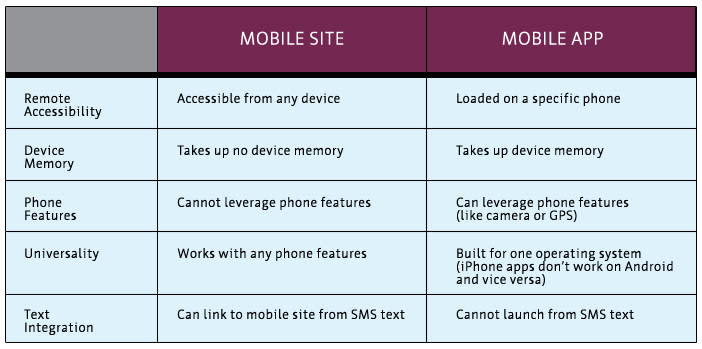 What kind of mobile marketing do people do?
Mobiles sites are today's foundation in mobile marketing. SMS messaging is the next step up, but the channel includes self-tours, quick-response codes and more. Watch for more info on these options in a later post.
Want to learn more?
Simpleview has launched more than 50 mobile sites, multidevice sites and apps specifically designed for DMOs.  If you'd like to learn more, contact your Account Manager. We can help you evaluate the market and determine the right strategy to meet your mobile marketing goals.