Content has long been hailed as the king of SEO - if you have good content on your website, which people are looking for, you are definitely at an advantage.
You still want to make sure that content is being optimized for the search engines: do your keyword research to ensure that you're optimizing for the right terms, develop internal links, create custom meta tags, etc.
In posting a follow-up article to the controversial 'Death of SEO' blog post, author Ken Krogue outlines 14 approaches to generating real content:
Research important questions.
List good / bad examples.
Passionately tell a story.
Highlight recent trends.
Survey best practices.
Compile proven tips.
Point out a problem.
Recognize who.
List what.
Warn when.
Show where.
Debate why.
Demonstrate how.
State the so what?
Content is especially important when it comes to DMOs since these are informational websites that visitors come to in order to research a destination. One of the major issues we come across with most CVB websites is a lack of content. You need to sell your destination to potential visitors, don't just have a Hotels page on your site with a bunch of listings - tell the visitor why they want to come to your destination, show where you're located and how easy it is to get there, post recommendations (such as TripAdvisor reviews) that tell those passionate stories. Enable your website visitors with content and information that will lead to an informed purchase.
Creating great content can take time and employee resources. The Death of SEO (Part 2) outlines The Core Content Model, which will allow you to take your real content and re-purpose it in many different outlets so that you can utilize each piece of content to its fullest potential, which will also increase the SEO impact of the original piece of content. Here's a really cool infographic that Krogue developed to outline the Core Content Model: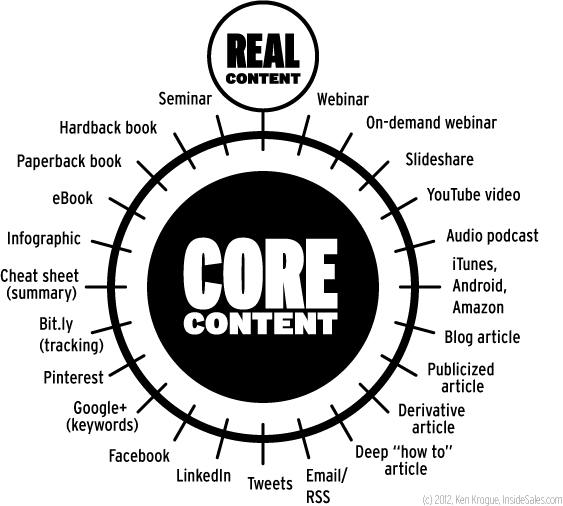 If you take one piece of real content that you wrote for a page on the website, you can re-purpose into core content by turning it into a Facebook post, tweet about it, write a newsletter, create a blog post, make a YouTube video, etc. Each different outlet would require re-working of the original content, but it would have the same "core" elements to it.
It's definitely worthwhile to keep content strategy in mind and create an annual plan while you're working out plans and budgets for next year. Our SEO team can make content recommendations and help create content strategies for your DMO.