As destinations around the world move into the phases of reopening, they're all facing a similar challenge: How to implement measures to reopen businesses safely, and how to communicate those safety measures to their residents and visitors. 
In response to this challenge, the team at Pocono Mountains Visitors Bureau has implemented the "Pocono Promise," a set of guidelines that businesses can choose to follow in order to promote safety throughout the community. 
 
What is the Pocono Promise?

The Pocono Promise is a voluntary set of guidelines designed to protect residents, visitors and employees from COVID-19. Those guidelines include aggressive cleaning protocols, health surveys for staff before starting their shift, special training and the use of personal protective equipment when possible. In return, businesses ask employees and customers to follow certain guidelines as well, including following social distancing protocols and staying home/visiting another time if feeling sick. 
 
Businesses are also asked to display door signs and flyers at their properties as a way to communicate that they have taken the necessary measures to make guests, employees and residents comfortable.
---
Tell us a little bit about your response to COVID-19. 

In mid-March everything in the Poconos began to close, with the exception of essential businesses, in an effort to slow and stop the virus. In response, leaders from the finance, education and health care sectors banded together with the Pocono Mountains Visitors Bureau (PMVB) to provide a public service and institute a new program for the new normal.
 
We quickly added a COVID-19 microsite to our site and transformed our social media accounts into public resources, sharing updates on everything from unemployment to heath updates to stories of essential workers on the front lines of health care. 
 
By April, we partnered with East Stroudsburg University and Blue Ridge Cable TV13 to produce a weekly half-hour briefing on the case numbers, phased reopening, useful tips to help residents get through the coming days and weeks. Public service announcements were broadcast on local affiliates, stressing the need to flatten the curve, stay home and maintain social distancing. 
 
The Pocono Mountains, which is typically all about hospitality, was now about survival.
 
Distilleries produced hand sanitizer and gave away thousands of bottles for free. Resorts organized food drives for furloughed employees and made large donations to local pantries. Restaurants delivered food to hospital staff, while ski resorts collected goggles for medical personnel to use as eye protection. The iconic Pocono Raceway even transformed its superspeedway into a stage for thousands of high school seniors so they could safely hold graduation ceremonies.
 
While the good deeds continued, the Poconos' hospitality industry looked forward to safely reopening to guests. The PMVB, along with its members and community leaders, developed the Pocono Promise to help businesses safely reopen, and it has since been signed by hundreds of businesses of all shapes and sizes.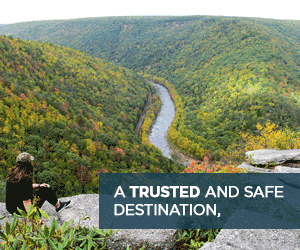 ---
How did you spread the word about the Pocono Promise to your members?

We developed a digital marketing campaign designed to reach all of the businesses in each of the four counties of the Poconos (Wayne, Pike, Monroe and Carbon). The campaign included a virtual signing, a targeted email campaign to more than 172,000 businesses in the four counties, and the creation of the #PoconoPromise and #PoconosTogether hashtags to spread awareness on our social channels. We also created a page on our site explicitly to help visitors understand the intent behind the Pocono Promise and make them feel safe when visiting. 
---
How has your community responded to the Pocono Promise?

Currently, more than 265 businesses have signed the Pocono Promise. We have also received a lot of great feedback from our residents and the business community. 
---
What do you think other destinations can learn from this initiative? 

Working with your community and developing strong relationships with them—along with your elected officials—was one of the keys to the success of this program. Having an open line of communication and talking through the issues to develop a collaborative effort helped to build trust in everyone that was involved. 
 
We truly commend those that were on the front lines everyday battling COVID-19; without their efforts we would not be in the place we are today.