While it's no secret that the tourism industry has been dramatically impacted by the events of 2020, the meetings & events space has particularly struggled to adapt to COVID-19. Through this pressure though, we've seen a number of creative solutions from organizations around the world. One such organization is the Greater Fort Lauderdale Convention & Visitor Bureau, who launched a series of live virtual site tours for meeting and event planners. To learn more about the initiative, we reached out to Agnieszka (Agnes) Zaranski, Sr. Regional Sales Executive at the Greater Fort Lauderdale CVB. 

During the pandemic, I was tasked with staying engaged with clients while our world turned completely virtual. I knew I needed to come up with a creative way to stay "top of mind" with my clients during these unprecedented times.
After completing a live virtual site tour in June of 2020 with the Westin Fort Lauderdale Beach, for a potential client, I thought to myself: why aren't we doing live virtual site tours for all meeting planners? I realized that many meeting & event planners would not have active RFPs or current programs in mind for our hotels and due to state and company restrictions would be unable to travel. So I wanted planners to experience Greater Fort Lauderdale from the comfort of their home. As a destination expert, I knew I wanted to be a resource to meeting & event planners and be able to provide them with updated information about the destination to keep them informed about what is happening in real time in Greater Fort Lauderdale. The idea of live virtual site tours was born.
 
---
How do the tours work? 

The live bi-monthly virtual site tour series brings the beauty of South Florida to all. We have completed eight successful live virtual site tours, which are held on a bi-weekly schedule from 11:00am – noon EST.  This series began in July of 2020 and features hotels throughout Greater Fort Lauderdale to help promote their properties to meeting planners, globally. Affording stakeholders the opportunity to showcase their hotels to potential new organizations/ companies, while also uncovering new group business for the destination. Our hotel partners are excited to be a part of this complimentary initiative that the Greater Fort Lauderdale CVB is offering, and we have hotel site tours booked through March of 2021. 
With the help of my team, we created a library of the recorded sessions that are now housed on our Greater Fort Lauderdale Convention & Visitor Bureau's website as well as our GFLCVB YouTube Channel. This electronic library is a resource that is easily accessible by everyone and these videos have received up to 575 views already. 
 
---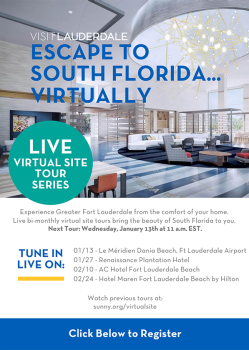 The option to "RSVP" for your tours makes them unique from others we've seen. Can you talk about why you included that feature? 

The decision to create an invitation including the RSVP feature through Simpleview was simple. It offered accurate tracking. We now have a record of who received the invitation, who opened the invitation, who registered and who participated in the presentation. The statistics are important to analyze for future sites and provide a reference on one platform. It was quick and simple to use and I would recommend all users to utilize this feature.
---
Have the tours been successful for your destination? How have meeting & event planners reacted to them?  

The live virtual site tours have been extremely beneficial to Greater Fort Lauderdale. The feedback from planners, past clients and hotel partners have been very positive and people are asking for more site tours and continuous updates about our destination. I feel we are on the right track with offering this creative and completely complementary initiative. 
To help answer this question honestly, I also reached out to planners who have attended our past virtual site tours to see what they had say about the live virtual site tour series:
Kimberly Jones, Global Accounts Manager at HelmsBriscoe, stated, "I find these webinars easy to follow and full of great info. I feel like it starts with big picture info, like CVB updates, convention center reno/addition, and a map of the area to see how it all fits together. Then, narrow down and highlight a specific property. It makes sense to me and has an easy flow. It provides just enough detail to see the changes and is not an overload."
Amanda Neeb, Key Account Manager at Strategic Site Selection stated, "I find them very helpful, what I like about them mostly is that you are offering only one property per week. That way you really get to experience what the hotel has to offer and fully see the hotels. When there is more than one hotel per week sometimes, they blur together [and you] can't remember which one you saw. It is also the perfect amount of time between 30 -45 minutes and allowing time for questions during the site tour…I also really look forward to them as I feel like I get to escape every other week to Florida!"
Amy Blesi, Global Accounts Manager at HelmsBriscoe stated, "The live virtual site tours are a great way to get important updates of hotels and Ft. Lauderdale on their safety and health protocols to pass on to clients."
Brenda McAuley, Operations Director at Maritz Global Events stated, "I find the virtual tours tremendously helpful.  Given the travel restrictions, the tours are giving us an opportunity to not only see specific properties, but how they are managing the current COVID situation in real time. We can see how rooms are being set, traffic flows, etc. Many of our clients are rethinking their big national meetings and looking at smaller, regional gatherings.  Being able to see how those could happen makes it easier to work through the details."
 
---
What advice do you have for other destinations trying to market themselves for meetings and events during this time?  

My advice to other destinations trying to market themselves for meetings and events is to think outside the box. Be Creative. Take risks. Promote things that are unique to your destination. Continue to share updates about your specific destination on a consistent basis, while utilizing social media channels. Creating a social media presence is key during these unprecedented times because, more than ever, people are connecting with others virtually to stay engaged. The Greater Fort Lauderdale CVB has embraced the mobile experience and is creating a new culture that wasn't tapped into as much as it is today