Now more than ever, small businesses need our support this holiday season. In an effort to encourage their community to #ShopSmall and discover new local businesses to patronize, Visit Fairfax recently launched "31 Days of Holiday Happiness," a sort of virtual advent calendar that features a new local business each day of December. 

The 31 Days of Holiday Happiness initiative came about from a marketing meeting where we simply asked ourselves how we could make people smile this holiday season. Because if there's one thing everybody needs right now, it's some happiness. That morphed into a conversation about advent calendars, and the more we talked through it, the more it made sense to do our own version of one, highlighting everything from attractions, hotel packages, arts organizations, restaurants, seasonal events like light shows, local makers and artisans, and a variety of small businesses. And while we wanted to make our website visitors smile, we more importantly wanted to help support our local economy in a time when many of our local businesses are seriously struggling due to COVID-19.
---
How are you promoting the 31 Days of Holiday Happiness to your community? 

To promote the initiative, we've deployed an array of social media posts through Facebook and Instagram. We've also communicated our initiative to our local political leadership and they've assisted in furthering our awareness objective by including the program in their eNewsletters to constituents. And the stakeholders that we're featuring are so thankful for the exposure, that they are sharing this initiative to their social followers as well.
---
What are some other ways you're encouraging your community to #ShopSmall and support local businesses this holiday season? 

The restaurants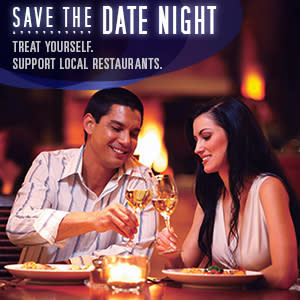 here in Fairfax County (and everywhere else in the country) are really struggling so we're trying our best to be their champion any way we can. We've launched a campaign that's running from December through February that encourages people to take one night a week and make it a "Date Night" by ordering from your favorite local restaurant to help them get through the winter. And since date nights can mean different things to different people, we're encouraging our residents to have date nights with their spouses, kids, parents, pets, friends, whoever they can, to safely gather with loved ones during these crazy times and give themselves a break from cooking while supporting the local economy. A part of this initiative includes a Chocolate Safari where we're highlighting chocolate creations from our restaurants throughout the county using a Crowdriff gallery and a custom map highlighting the locations. There's also a new conglomeration of local makers and artisans here in Fairfax County called Made in Fairfax that we've partnered with. These folks make everything from metal and wood sculptures, to peanut butter, dog treats, coffee, chocolate, and beer. So we're asking people to support the resident business owners when they're looking for something special to give as a gift this year.
---
Is your holiday content different this year, in comparison to years past?  

Our holiday content is definitely different this year, but the whole world is different this year! The beautiful thing is that we get to highlight the ingenuity and determination of our stakeholders, who are still bringing holiday happiness and hospitality to their customers during the most challenging of situations. We've seen more "drive-thru" events than last year that comply with strict safety standards, and of course way more outdoor heated dining and drinking options. And because the tourism and hospitality community has taken the brunt of the COVID-19 pandemic, we're trying to rally the local population to enjoy and support the sites, businesses, hotels, restaurants, breweries, wineries, and arts organizations that we're usually promoting to potential visitors coming from outside of Northern Virginia. 

The team here at Visit Fairfax wishes every single one of our DMO colleagues throughout the world a very happy and safe holiday season this year. Thank you to Simpleview for your continued support of our industry, and we look forward to a more prosperous year ahead.