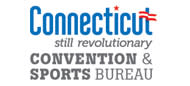 In partnership with the state of Connecticut's Department of Economic and Community Development, the Greater Hartford Convention and Visitors Bureau has formed the Connecticut Convention and Sports Bureau - a destination marketing organization (DMO) to help increase the state's convention, meeting and sports events business.
According to a report from MeetingFocus.com, this effort will intensify outreach and marketing efforts to meeting planners and sports promoters for international, national and regional associations. Michael Van Parys, who is the president of the Connecticut CSB and the former head of the Greater Hartford CVB, said one of the reasons for the change was because of Connecticut's small physical size.
"It makes great sense to maximize our resources and represent the hotels, meetings and sports venues, attractions and restaurants throughout the region," said Van Parys.
As the Connecticut Convention and Sports Bureau is a valued Simpleview client, we would like to congratulate all of those involved with the successful formation.
For more information, read the full report on MeetingFocus.com.