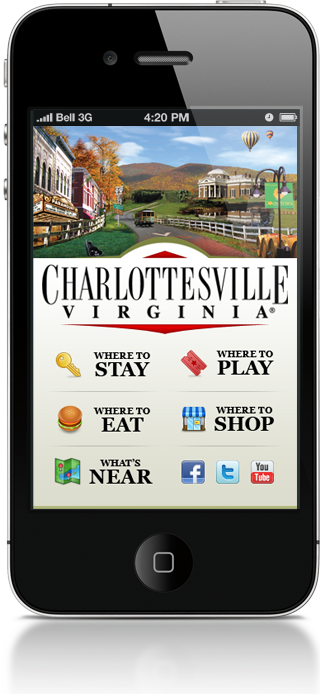 Together with officials from Albemarle County and the City of Charlottesville, VA, the Charlottesville Albemarle Convention and Visitors Bureau launched the 2012 edition of their "Stay Local, Play Local" program yesterday. According to the CVB's press release, the initiative encourages local residents to experience the free or low-cost activities available in the region, rather than going elsewhere for their summer fun.
As the CVB is a Simpleview client, we worked in collaboration to help design and develop a mobile version of their main site - VisitCharlottesville.org - as part of this campaign. This allows users to obtain location-specific information about their surroundings with the "What's Nearby" tool, helping visitors and locals discover or learn more about the community's attractions, restaurants and hotels.
To learn more about the Charlottesville Albemarle CVB's "Stay Local, Play Local" launch and their new mobile site, read their official press release, visit their site or watch coverage from WVIR-TV, the NBC affiliate in Charlottesville.