To help attract leisure travelers to Charlottesville and Albemarle County in Virginia, the destination's convention and visitors bureau has launched a revised version of their brand. This includes a new logo, which is a stylized representation of Thomas Jefferson's historic Monticello, and a new tagline - "Where Tradition Is Always New."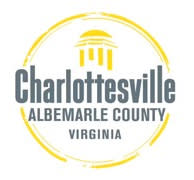 According to Kurt Burkhart, the executive director of the Charlottesville and Albemarle County CVB, the brand refresh was needed to better market the area from a tourism standpoint.
"We very much needed a refreshed identity, which would convey a renewed sense of energy and provide a better vehicle to communicate all the wonderful tourism assets that Charlottesville and Albemarle County now offer," he said.
The main vehicle for the new CACVB brand is the bureau's website - VisitCharlottesville.org. Working with our team and Payne, Ross & Associates, which is the bureau's marketing agency of record for the branding effort, the site has been redesigned to reflect the new color scheme, place the logo treatment across the site and provide more space to highlight the destination's gorgeous imagery. This work was done for their main site and their mobile site - m.visitcharlottesville.org.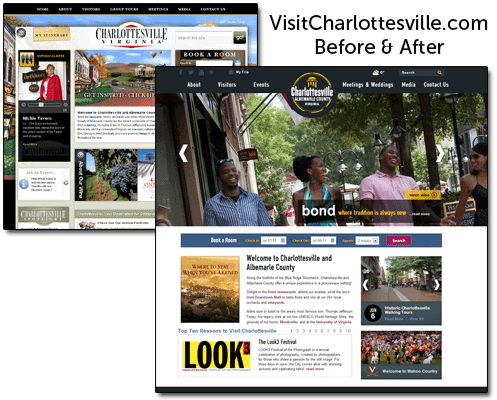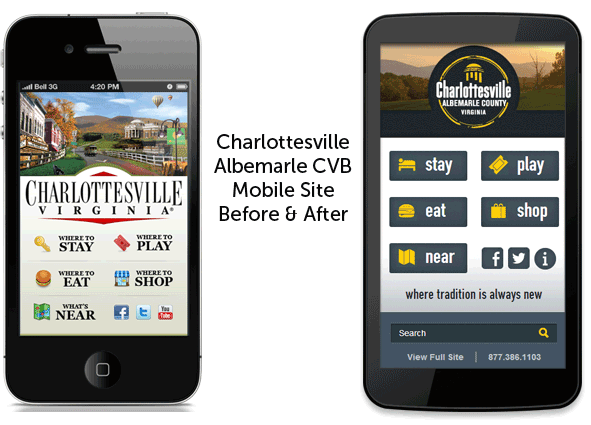 We're proud of the CVB's efforts to continually attract visitors to their destination. Forward-thinking initiatives such as the rebranding are why direct visitor spending in Charlottesville and Albemarle County was nearly $490 million last year, which supports 5,000 local jobs and generates about $35 million in tax revenue.
For more information about the Charlottesville Albemarle CVB's rebranding, read the bureau's press release.