The layout changes from Facebook are continuing, as the company rolled out its Timeline for business pages at the end of March. This created a situation where all companies and organizations that are using the social platform had to adapt to the new format. Overall, this has added some new functionality and options that can help maximize marketing and outreach efforts.
Chronological History Lessons: In many cases, our clients represent locations such as cities, regions, states and even countries that have a rich history. Now, this information can be shared via social media to provide information on when the Destination Marketing Organization (DMO) was created, when the city they represent was founded, when specific partners built businesses in the area and more. To do so, DMOs can develop Milestones to add past events to their Timeline, similarly to how the Las Vegas Convention and Visitors Authority has done it.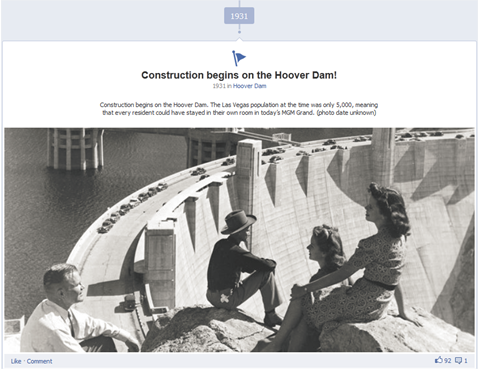 Cover Photo: Rather than using the previous layout's photo stream and profile icon, Facebook's Timeline uses a large, 851-by-315-pixel image to represent the brand. This adds more ways to creatively showcase attractions, events, scenery and more. However, Facebook does have very specific rules about ways organizations can utilize this new space, which is important to read and follow. For an example of best practices, check out what Visit Orlando has done with their Cover Photo.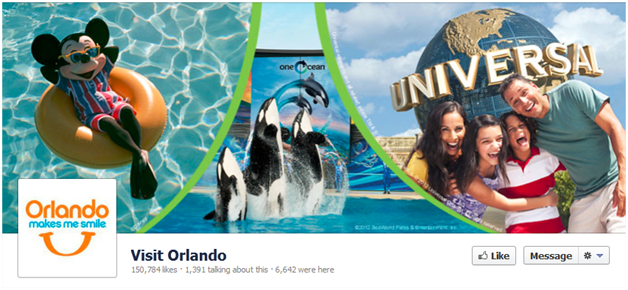 Transition from Custom Pages to Apps: Previous to this rollout, Facebook allowed brands to have a custom landing page, which could be the default space for new visitors to land on and learn about the organization. Specific promotions, requests to "like" the Facebook business page and other actions could be called out here. However, the Timeline layout has reconfigured this situation, so brands can't redirect Facebook users to a customized space.
Instead, brands can now develop multiple Facebook "apps" with customized content. Instead of having just one page with marketing information, brands can have several areas to help visitors learn more about the DMO and the area it represents. The Austin Convention and Visitors Bureau has done a great job using this new area, as they have Apps for finding the best airline fares to the city, discovering music venues and learning about the region's upcoming events.

Facebook does continually keep users on their toes with new updates and revamps. Some of the other recent changes that are worth highlighting include:
If you have any questions, please feel to leave a comment below and our team will respond as soon as possible with the answer.