According to the Butler County Visitors Bureau, Butler County, Ohio is "a place where families grow, history is preserved and new friends are made." So, the Simpleview team worked closely with the Visitor Bureau's staff on incorporating these key values and traits into their new site, which was launched this month.
 

Butler County's Old Website

 The New Butler County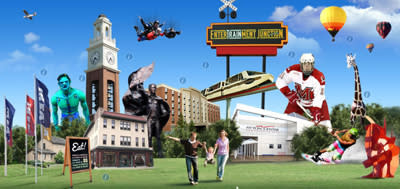 With a new creative direction, bright colors and large photos were incorporated into the site's overall look. This helped showcase the county's lush scenery and fun attractions, including football games at Miami University and monster-themed mini-golf courses in West Chester. 
The Simpleview team also added some interactive elements to the site to add some excitement around these events, such as a home page collage that provides "thought bubbles" that visitors can click on to learn more about the region's local shopping, festivals and heritage.

The visitor's bureau is very active in providing deals and contests for participating businesses in the county, so an "Alert Bar" was created to emphasize these incentives right at the top of each page. Staff members can use this tool to drive traffic to specific partner sites or social media platforms.
And to top it all off, the Visitors Bureau also received an updated customer relationship management (CRM) system, allowing them to have a central place to manage their marketing and customer support initiatives.
These are just a few of the fun features that were added into the Butler County Visitors Bureau's new site, so please check out the redesigned website (http://www.gettothebc.com/)  and consider visiting this beautiful part of Ohio!