As part of our ongoing effort to monitor and analyze trends, this time, we chose to do a more in-depth analysis of Book › Direct searches and referrals by regions in the U.S. As we previously mentioned in one of our blog posts about Book › Direct data, both searches and referrals are KPIs that marketers tend to focus on because these provide insights on intent. More importantly, these KPIs allow us to understand demand, such as who's looking and when visitors plan to arrive at a destination.
Overall, the global search and referral recovery trends for 2020 in our Insights Hub suggest that the recovery is strong. Still, not all destinations are made equal, so we'll dive into each U.S. region to better understand the differences between them.
In this analysis, we divided the data into five regions: Alaska, Midwest, Northeast, South and West. And in this sample, we only included destinations with consistent data for 2019 and 2020. 
As a whole, U.S. searches increased by 1% from January through October 2020, and U.S. referrals increased by 19.8% during that same period. Below we can see how each region performed.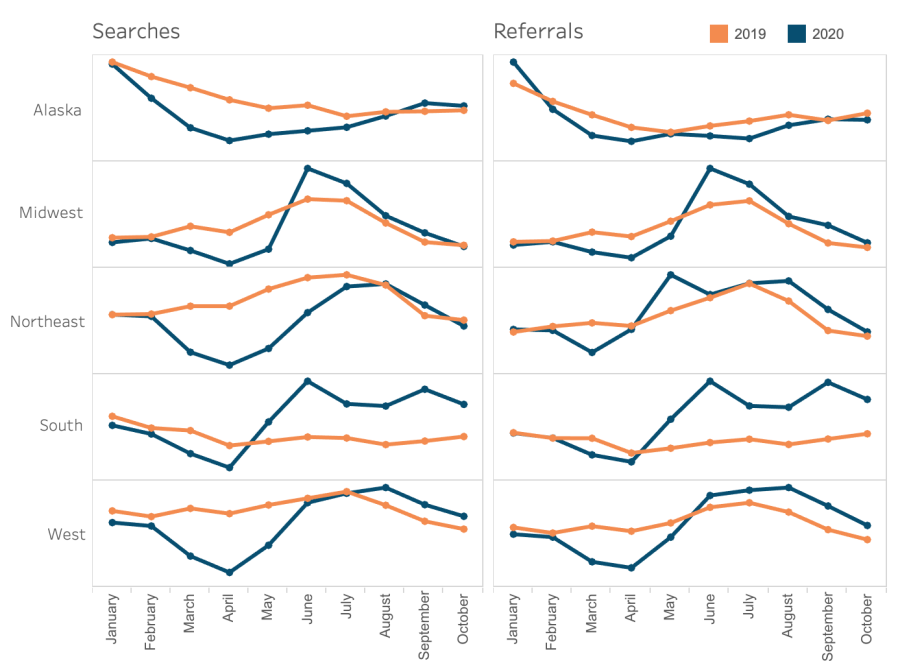 In the graph above, we can see that the steepest declines occurred in March and April 2020, and as the summer approached, numbers started bouncing back. However, this trend was not as prominent for Alaska in the beginning. The Midwest and South peaked in June, while the Northeast and West showed signs of recovery but didn't consistently outperform 2019.
As every month showed different trends for each region, we created the following table in order to summarize the data. 

As we can see, the South performed the best in both searches and referrals. Referrals for the Midwest and Northeast show positive signs as well, but more recovery still needs to happen for searches to turn positive in the YoY comparison. As for Alaska, their numbers should get a boost during the winter months, which is their peak season. And last but not least, the West's referrals, currently a 1.7% decrease for 2020, have outperformed 2019 figures since July and are about to turn positive for the year.
The data shows that the way each region is dealing with the pandemic affects the trends differently. However, for most, more recovery needs to happen; and because we are still in the midst of recovery, figures will continue to shift. And while the recovery process is merely just beginning, the data indicates that intent to travel is still there.