We recently developed the Insights Hub, a data resource created to provide destinations with a benchmarking guide to help them better understand how their data compares to that of the industry as a whole. In an effort to provide additional insights in "down the funnel" booking data, we've added new data from Book › Direct, a content aggregator that allows for hotel rate and availability content to be displayed on the destination website. 
Four new charts were added, so I wanted to provide an explanation of each: 
Lodging Searches: Data point specific to the Book › Direct white label results page. A search happens on the initial load of the results page and when a date adjustment has been made while on the results page.
Lodging Referrals: Any click to a property through a Book › Direct results page or through our redirect buttons if Book › Direct has been integrated on the hotel listing and detail pages of the website.
Booking Window: How many days in advance the visitor is looking to book their stay (number of days between when the search happens to the check-in date).
Length of Stay: How many days the trip will be (number of days between the check-in/check-out dates entered).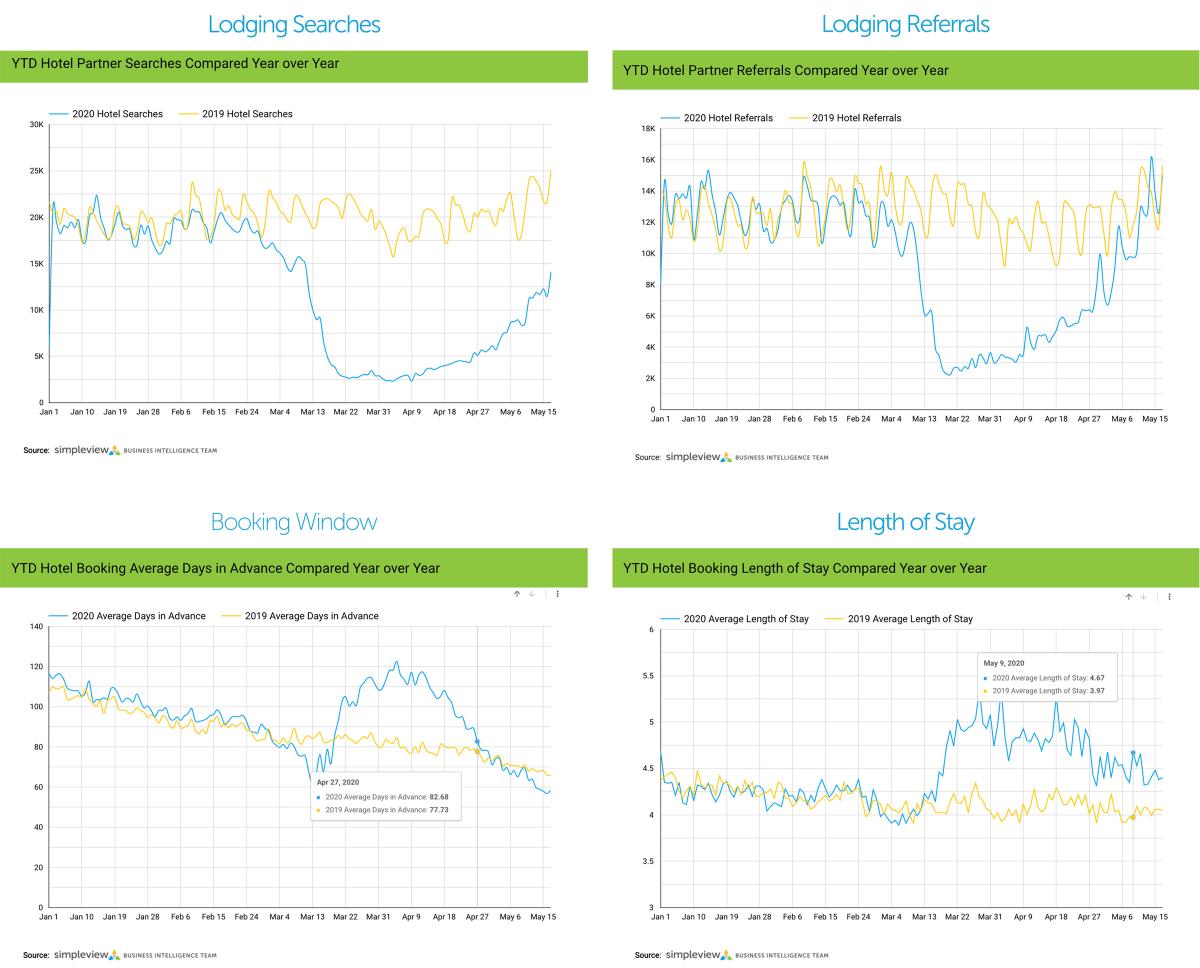 In most scenarios, the referral is the highly sought after and most analyzed data point in the DMO world. It's one of those down-the-funnel KPIs that marketers put a lot of effort into understanding and, more importantly, increasing. 
But these unprecedented times have flipped that notion on it's head and "the search" has become the focal point. It provides insights on intent such as who's looking, where are they looking from, and when are they looking to come back. 
---
One of my biggest questions from the graphs: Why are the trends for searches and referrals so different, with referrals increasing at a more rapid pace? 
---
We dug in and we found that our redirect buttons integrated directly on hotel listing and detail pages have drastically increased, while usage of our date selector widgets and results page, while gradually building, is still significantly low. My guess as to why this is occurring is that date-selector widgets are qualifying users too much at this point. 
As destinations move towards their phases of recovery, the KPIs will bounce back and be as important as ever. But for now, analyzing the trends of those who are dreaming of your destination and ensuring they have the information they need is the priority.
Be sure to check out the rest of the Insights Hub to get perspective on website traffic and Meeting Sales & Marketing insights.