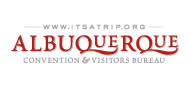 The Public Relations Society of America (PRSA) today opened their ballots for their 2013 Travel and Tourism Section Executive Committee. Those selected will help lead the association's public relations professionals in the travel and tourism industry by guiding their professional development opportunities and planning the section's annual conference.
Among the nominees is Megan Mayo, who is the Communications and Tourism Manager for the Albuquerque Convention and Visitors Bureau. Based on our team's interactions with Megan and in representing the CVB as a client, we are excited for her chance to be in this executive committee and to advocate for PR practitioners' needs in our industry.
For a full list of the nominees, download the form from PRSA. Unfortunately, only active members of the Travel and Tourism section can vote at this time.