Rich in history and easily accessible from New York and Philadelphia, Trenton is emerging as New Jersey's foremost destination for culture and the arts. With its distinctive exhibits, exceptional entertainment venues and a variety of eclectic dining options, Trenton is more than just the state capital of New Jersey.
That's why the Trenton Downtown Association wanted to revamp their site - DestinationTrenton.com, striving to make it a spot for learning about what's available to visitors in this southernmost city in the Tri-State Region. This included migrating their internal data to Simpleview CRM for easy collection and incorporating Simpleview CMS for their staff to update the site content as needed.
In addition, we worked with them to develop a fresh look for the site that reflects its heritage as one of the key cities in the American Revolution, all while showcasing its vibrant arts community and modern attractions. The Downtown Association knew that they could service their visitors better through a full update with rich graphics and relevant content.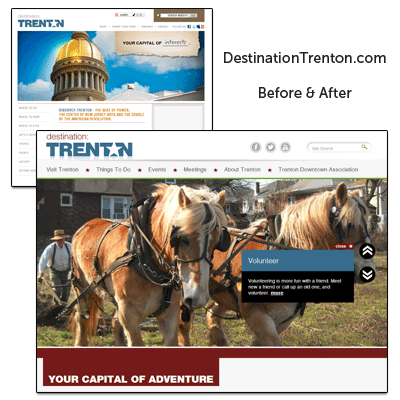 From joining thousands of visitors for Patriots' Week to simply catching a baseball game at Waterfront Park, there is plenty to see and do in lively and historic Trenton. We encourage you to pop on over to DestinationTrenton.com and start planning your trip to New Jersey's capital city.