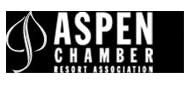 The Aspen Chamber Resort Association, which serves the business and nonprofit communities of Aspen, Colorado, recently received top honors from the Western Association of Chamber Executives (W.A.C.E.) for their website - aspenchamber.org.
The chamber was presented with the first place award in the "Web Site" category at the 2013 W.A.C.E. Conference in Burlingame, California. The site was chosen by the judging committee for exceeding expectations in the following areas:
"Overall Design - overall impression of the look and feel of the web site, graphics, ease of use and navigation, support of chamber brand, photography, feature rich, content prioritized by use and importance, etc.
Content - overall quality, timeliness and relevance of information, clear concise text, high quality photography, no typos or bad grammar, addresses primary audience(s), etc.
Search Engine Optimization - does the chamber web site appear on the first page listing of major search engines like Google, etc."
In the third quarter of 2012, the Aspen Chamber Resort Association launched the latest version of their website.  We worked with their team to re-skin the website and add fresh features to their Simpleview content management system (CMS), all to aid visitors when planning their trips to the town. For more information about the site's enhancements, read our blog post from last year.
For more information about W.A.C.E. and their annual awards for the chamber industry, visit WACEonline.com.