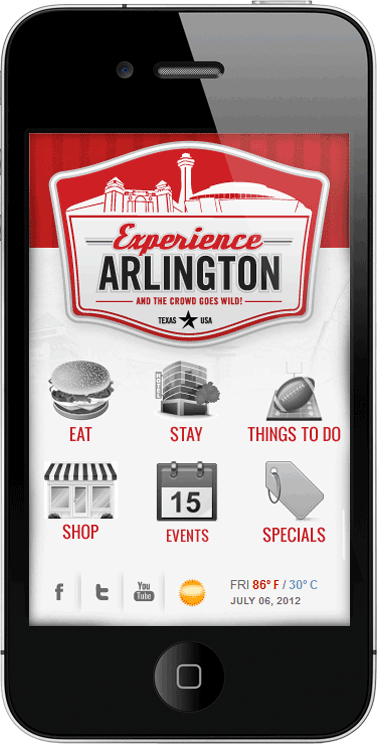 Arlington, Texas provides plenty of exciting attractions, including Six Flags Over Texas' daring roller coaster drops and jaw-dropping homeruns from the MLB's Texas Rangers at the Rangers Ballpark. And in the stadiums to the amusement parks, the crowds go wild! To evoke that feeling and broaden the city's marketing to convention and tourism sectors, the Arlington Convention and Visitors Bureau recently rebranded and has become Experience Arlington.
As part of this full identity switch, Experience Arlington worked with Simpleview on utilizing our content management system (CMS) and customer relationship management (CRM) system for their new website - ExperienceArlington.org. Additionally, the destination marketing organization and Simpleview overhauled their mobile site - ExperienceArlington.mobi - integrating with their CRM, as well as developing the icons and other design elements.
On the mobile site, Experience Arlington's listings from the CRM system are filtered into distinct fields, allowing visitors to easily find where to eat, stay and shop in the city. The site also offers geolocation technology to determine how close a particular business is to a visitor and how long it will take to get there. Additionally, the DMO is working with their partners to provide mobile-exclusive coupons through the site, such as free appetizers, discounted tickets and more.
"Tourism and CVBs are evolving. We want to make sure we're evolving with them," said Jay Burress, President & CEO of the new Experience Arlington. "Tourism is about the experience. We want visitors to have great ones when they are here, so we're involved in every aspect of their experience, from the marketing of it to the delivery of it to looking at the future of what experiences we can add for the leisure visitor or a convention delegate coming to town."
To learn more about Experience Arlington's rebrand and site launches, read their press release.