As part of an ongoing effort to monitor and report the abundant amount of information we collect as a company, we decided to dive into our Book › Direct system's database and analyze all of the average daily rate information. Knowing key metrics such as average daily rate can help you to forecast revenue management, marketing and recovery strategy. 
In doing so, our team examined the average daily rate (ADR) of 160 destinations and approximately 7,500 lodging properties using our Book › Direct system. As a key performance indicator universally used across the hospitality industry, ADR tells us the average rate lodging properties charge for a one night stay (per day). 
ADR patterns are typically quite easy to understand and follow with simple graphs that plot a daily rate against a period of time typically dissected many ways: by property, chain, city, region, type of property, date, etc.

ADR By Month
By month, our team found the ADR across the set of properties we examined peaked in August at $150.42, while also showing July, September, and October, as the top three months of the year respectively. Conversely, the months with the lowest ADR are January, February, November and December with January's ADR being $123.24.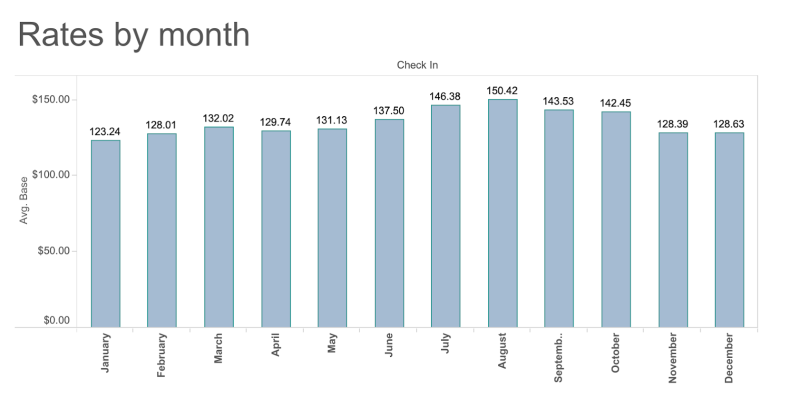 ADR By Weekday
Looking at ADR by weekday, probably to no one's surprise, Fridays take the lead, with an ADR of $149.22, while Sundays only average $127.24. The rest of the week by order of highest to lowest ADR is Saturday, Thursday, Wednesday, Tuesday and Monday.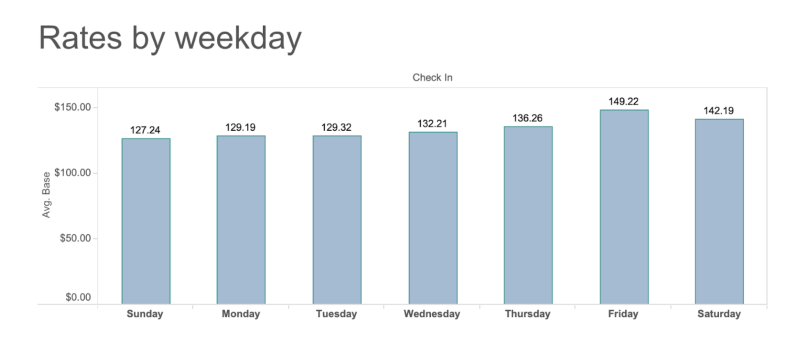 ADR by Region
Next, our team looked at ADR by region. Here's how we broke down our regions:
Northeast: 20 destinations, 1,496 lodging properties
South: 49 destinations, 1,761 lodging properties
Midwest: 31 destinations, 1,434 lodging properties
West: 59 destinations, 2,762 lodging properties
Alaska: One destination, 25 lodging properties
This analysis by region is unique in that it gives us a snapshot of what lodging properties set their future ADR at, per month, for a period of one year, regardless of the calendar month. Here are the highs and lows for each region:
Northeast: $198.80, 11 months out; $131.14, four months out
South: $150.95, 12 months out; $104.86, five months out
Midwest: $134.18, 10 months out; $98.58, four months out
West: $201.65, 11 months out; $153.51, four months out
Alaska:  $138.48, 10 months out; $118.01, less than one month out

Availability Trends
Finally, our team took all the ADR information on hand and examined the number of available nights against the number of unavailable nights each property in our sample set had within a monthly time frame, again, regardless of actual calendar months. Searching for availability less than one month out, approximately 6,888, or 92%, of properties in our set had at least one night of availability, while 6,440, or 86%, had at least one night of no availability.
The trend follows a linear pattern throughout the 12-month period we analyzed, finally ending up with 78% of properties showing us at least one night of availability and 68% of properties with at least one night of no availability. It's important to note, the total number of properties giving us full availability in our searches for our analysis also decreased by almost 1,000 properties.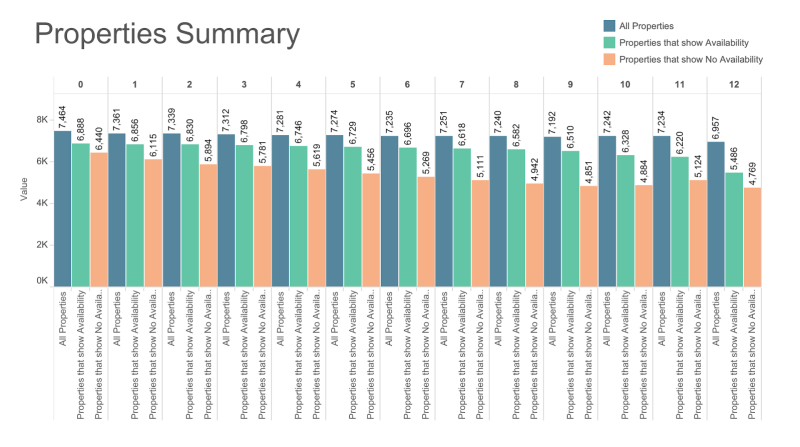 While ADR is only one KPI used within the hospitality industry, it's always fun to take a look at data and slice it a number of ways in order to see trends. Looking closer at the information available to us helps us avoid guessing and make better informed decisions based on real data. We hope this data gave you more insight and will help you with any future marketing, strategic or business decisions!