At this year's Simpleview Summit, we covered the six steps of the Digital Marketing Cycle in separate sessions. In the session, Step Two of the Digital Marketing Cycle: Create, we highlighted the ways that you can craft content guaranteed to both convert and inspire. We think that some of the information shared there could help you to develop your content strategy moving forward, so we wanted to recap it here for those who may not have been able to attend the presentation.
Before we get started, however, we want to reframe the way that we are thinking about content. Most of us who are creating content are asking ourselves "how many views can I get on this video?" and "how do I get people to click on this." In actuality, the question you should be asking yourself is, "if my destination was suddenly gone tomorrow, what would people miss?" That is the story you should be telling. The best part? You don't even have to be the person who tells that story in a spectacular way, because there are content creators who are already doing it for you (and in ways that most of us can't even imagine).
Tom Albrighton of ABC Copywriting demonstrates the importance of the seven characteristics of effective storytelling in his article "What Really Makes a Good Story" by using video examples of each. Like Albrighton, we will highlight each characteristic with a video that best illustrates each storytelling approach, but translate these ideas to the destination marketing space through videos that tell compelling, influential stories about places the viewers may want to travel. We have compiled some of these extraordinary stories, recorded by ordinary people, to give you a bit of inspiration and to help guide you through that second step (Create) of the Digital Marketing cycle.
But first, check out Albrighton's infographic to get a quick overview on what makes a great story: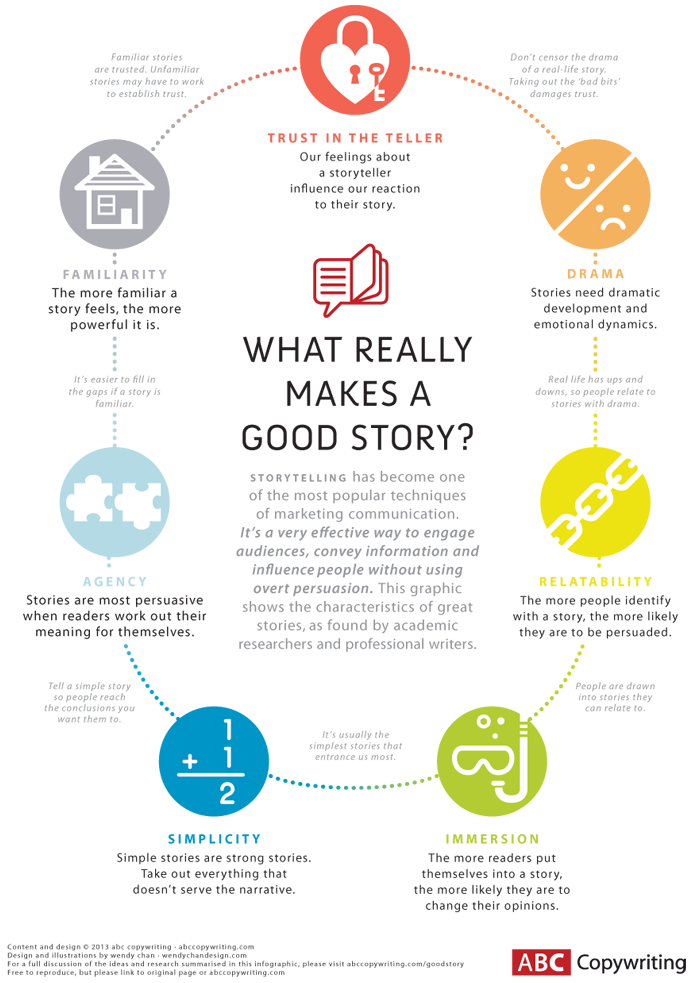 Source: ABC Copywriting
1. Trust in the Teller
Source: Make It Count by Casey Neistadt
There is nothing worse than someone trying to sell you something. Have you been to a car dealership? If you are like me, you avoid it all costs and put your sunglasses on to avoid eye contact.
For online viewers, it is much easier to avoid something being sold to them. They can just click the 'x' in their web browser or scroll past your promotion to move onto the "Linda, Listen" video they have watched before, but still gets them every time. That is why it is so important to have engaging content that feels organic and builds trust, which leads to a natural sale or conversion.
Casey Neistadt is the master of this technique. In this video, he automatically tells you what he was meant to do in creating this video and instead of following those rules, promoting a product obnoxiously, he decided to go rogue (because YOLO and stuff). He automatically establishes his authenticity by being honest with the viewer, explores the world, and still manages to promote the product he was meant to promote in the first place (without all of us feeling completely exhausted by a tiresome sales pitch). WIN. WIN.
2. Drama
Source: Around a Vision Trailer - Parkour film from Jestion on Vimeo.
Drama is something most people try to avoid, unless it is part of your storytelling strategy; then it becomes necessary. This particular example creates drama with a captivating narrator, slow motion scenes, and height defying shots. Not only does it tell a great story, but it also highlights the feeling that you get while exploring India, Myranmar, and parts of Europe. It sells the destination dramatically, but without explicit advertisement.
3. Relatability
Source: Faces of Turkey from The Perennial Plate on Vimeo.
When you are scrolling through your Facebook feed, you tend to click on the items that you identify with most (with the exception of that cat video you have watched 1,001 times, which we may or may not have already watched also).
The same rule applies to storytelling.
If the viewer can identify with the character or with the feeling that your destination portrays, they are more inclined to turn their inspiration into action (i.e. booking their next trip to your location). It is also important to remember that, although a destination's scenery, food, and landmarks make up much of what makes it special, don't forget that the people of the destination are really what make your locale unique: so let's highlight them too! This video highlights the culture that Turkey provides while adding a humanistic approach, giving that touch of relatability the viewer is looking for. Plus, it has some jazzy tunes.
4. Immersion
Source: Iceland Cinematic ReCap - The BEST TRIP of Our Lives by Andrew T. Kearnes 
Ah, immersion: the buzzword of experience marketers everywhere. Companies like AirBnB use it to power their entire business model, immersing travelers deeper into a destination's local culture through more residential stays, thereby allowing the visitor to experience distinctive details of less typically traveled areas and hopefully create out-of-the-ordinary memories. However, immersion prior to traveling can also be a powerful thing.
For the generation who makes an average of $35,592 a year (https://smartasset.com/retirement/the-average-salary-of-a-millennial), we are pretty choosy with where we spend our limited stacks of dollars. This means that we want to know exactly what we are getting prior to shelling out the cash. Immersion videos satisfy this need, taking us on the journey that could later become our memory.
This vlog/travel video hybrid from Andrew T. Kearnes (a person who is highly followed and creates engaging content) illustrates a unique point of view that allows you to feel as if you are traveling alongside him. It also happens to show you a few killer spots that only Iceland can offer. Take my money now.
 5. Simplicity
Source: The Lofoten Islands from Nick Kontostavlakis on Vimeo.
Sometimes nature speaks for itself. You don't always need a fancy narrator like Morgan Freeman to voice over your destination's best features (although I am sure we can all agree that to have him narrating our entire day would be pretty epic). Sometimes, a drone, a guy with a bit more time than you [insert user generator content creator here] and some killer views is all you really need to tell a story. This video uses all three and it is simply beautiful.
6. Agency
Source: India from Neal Howland on Vimeo.
 In this video, the narrator asks, through a philosophical lens, "what is the solution to a life without direction, mindfulness, and intent?" By listening to the narration and watching the video, a viewer may come to the conclusion is that the answer is traveling to find one's purpose and to live with clarity, in the moment.
The combination of narration and fast moving images creates the inspirational, urgent push to travel to a destination where mindfulness (living in the present) is valued-in this case, India.
7. Familiarity
Source: San Diego Adventure by Jodi Galloway
Sure, the videos with 4k resolution, state of the art drones, and fancy thingamajigs are pretty sweet. However, sometimes it just requires a person who emits familiarity and captures emotion to get people going.
Jodi Galloway is one such videographer. In this video, she shows the features that make San Diego unique, while capturing the feeling that you get when visiting. What does that do for the visitor? It hits them right in the feels and makes them want to journey to see the seals with their besties. Plus, hipster tunes.
Let's ask ourselves that question again, "if my destination was suddenly gone tomorrow, what would people miss?" and how would you create content around that by using these 7 steps of for a successful story? It is important to note that these examples support the second step of the Digital Marketing Cycle: Create. However, it is important to note that testing, optimizing, and iterating based on the data you receive will ultimately create your content creation process moving forward.
Want to see the best of the best Digital Marketing news out there? Check out The Layover, a one stop shop for the top Digital Marketing News!