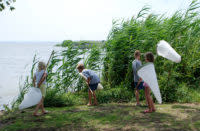 According to an ITB Travel Trends Report, travel in North America was up 5% in 2014. With unemployment on the decline and steady economic growth, it is predicted that travel will rise even more in 2015.
The goal of any destination in 2015 should be to focus on differentiating themselves by adapting to the most popular trends in travel in order to provide vacationers with exactly what they want. Here we've compiled a comprehensive list of just that:
Specialization
Luxury Travel Exchange International (LTX) suggests that becoming more niche focused in your destination marketing will be beneficial in 2015. Niches to focus on include weddings and honeymoons, "voluntourism", spa and wellness, family/multigenerational travel, adventure/sports, and meetings/conferences. By designing custom and unique niche packages for travellers, you can differentiate yourself from other destinations, creating a reputation in specialization.
Technology
In 2014 we saw an increase in Millenial travel. This trend is projected to continue to rise with the help of social media and other technologies. According to Suzanne Cook, president of Suzanne Cook Consulting and former head of research at the US Travel Association,
Millennials are more confident, more spontaneous and want to decide for themselves. They have confidence in technology and trust social media which they see as an enabler of positive travel experiences rather than an interruption. With anticipated new devices, like the Apple Watch, more and more people are going to be accessing the internet on the go, making mobile device apps, responsive websites, and mobile-friendly booking more important than ever. It is predicted that over 35% of online travel bookings will take place on a mobile device by 2018.
Authenticity
The modern traveller is becoming more and more interested in experiencing their chosen destination in as authentic a way as possible. This means they want to interact with locals, avoid tourist traps, go where the locals go and do what the locals do. This trend has been demonstrated with the rise in popularity of peer-to-peer dining and Airbnb. So how can destinations like you market to authentic travellers? One way is through storytelling. Storytelling, simply, is a means of conveying and interpreting experiences in a way that engages those you're sharing the story with. Memorable stories have a plot that enriches the experience of the story by illustrating such story components as challenges, conflict, and change. Travellers looking for a truly authentic experience will be emotionally driven to explore your destination if you can tell them a story that resonates with them.
Experiential Travel
According to Terry Dale, President and CEO of the United States Tour Operators Association, today's traveler continues to crave culturally immersive experiences and these types of experiential tour packages remain in high demand. Nearly three fourths (71%) of USTOA membership provide travel and tour packages that offer art and culture, with 64% offering culinary and more than half (57%) providing adventure focused packages.
Vacationers want to broaden their experiences while in destination. Museum passes, show tickets, dining packages, and helicopter tours are all great examples of offerings for the experiential traveler.
Sources:
http://www.internationalmeetingsreview.com/research-education/itb-world-travel-trends-report-reveals-increase-north-america-100718
http://www.itb-berlin.de/media/itb/itb_dl_de/itb_itb_berlin/itb_itb_academy/ITB_2015_WTTR_Report_A4_4.pdf
http://www.travelmarketreport.com/articles/Following-a-Troubled-2014-Tour-Ops-Look-to-the-New-Year