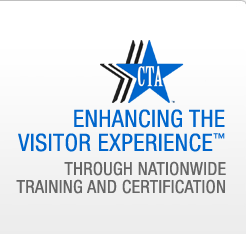 The Certified Tourism AmbassadorTM (CTA) Program is a nationwide certification program that trains front-line hospitality employees and volunteers. The CTA Program goes beyond basic customer service training because it builds upon participants regional and historical knowledge, increases their awareness of available resources, and helps them become a source of information for every kind of tourist.
Sonoma County in the Northern California wine region encompasses more than 40 cities, towns and villages. They began CTA certification in October 2012 and have just had their 1,000 Ambassador complete their program!
"Everyone benefits from the Sonoma CTA program - the hospitality industry, the local economy, and most importantly, the front line ambassadors and tourists." said Mo McElroy, Chief Sonoma Ambassador. "Every DMO challenges with building strong and positive relationships with partners and member," she continued, "and the CTA program has been our 'golden ticket' by creating an interactive platform to speak with and strengthen our relationships."
Sonoma CTA Ambassadors learn how to ask specific questions that help lead them in building ideal visitor itinerary - for newlyweds, international visitors, and more. The Sonoma CTA training is open to those who work in accommodations, wineries, restaurants, attractions, adventure services and agritourism businesses. The 4-hour classes are comprised of small, interactive groups and a 1-hour open book test at the end.
"We've had a lot of success with the CTA program because it's 'brought to you by Sonoma'. Business owners appreciate having a training program to provide to their employees and employees like that CTA is a credible certificate, that they can take with them and use what they learn immediately" added McElroy.
Learn more about the Sonoma CTA program here.
Information on how to build your own team of local Ambassadors and start your CTA program is available at www.ctanetwork.com.